DESIGN TRENDS 2021: HOW TO MAKE A STATEMENT WITH JEWELRY HARDWARE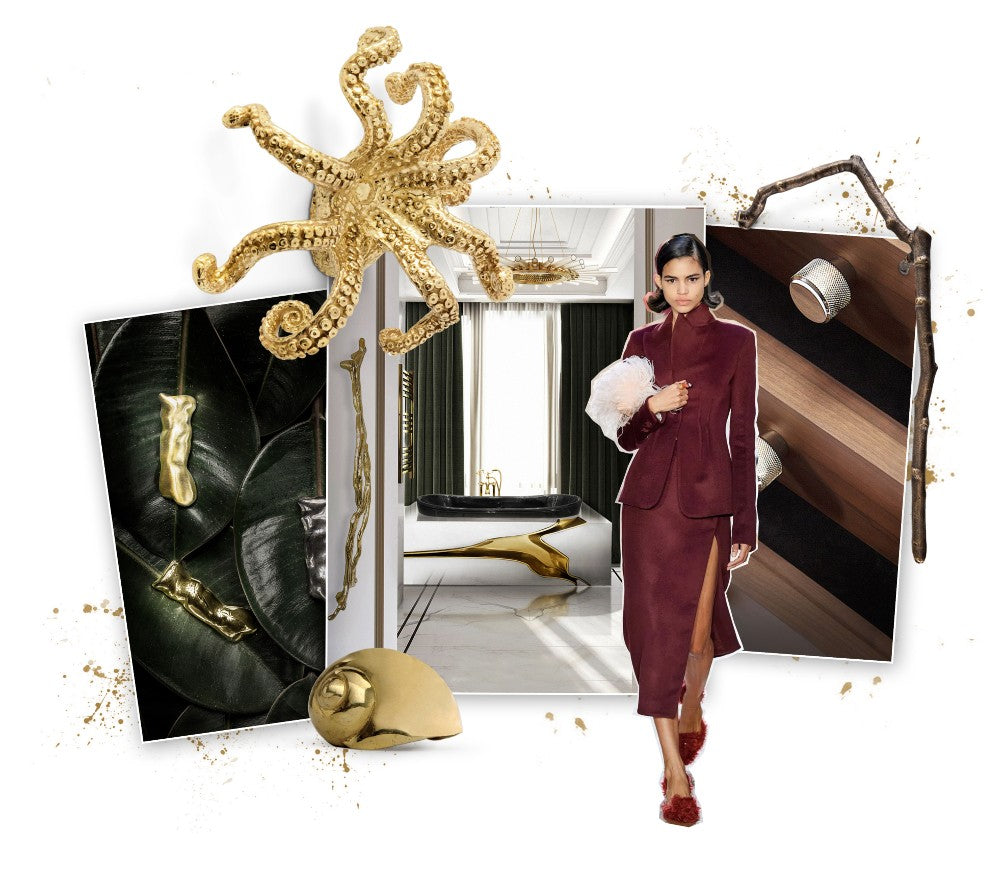 Design Trends 2021: How to Make a Statement with Jewelry Hardware ⇒ Personalize your home decor with sublime design details like decorative hardware designs as their ornamental power is undeniable as they can completely shift the mood of a division. In actuality, decorative hardware has for the longest time been regarded as a type of jewelry for furnishings, easily becoming the finishing touch an interior requires!
Concerning decorative hardware, homeowners and designers alike have now at their mercy a plethora of possibilities seeing the growth of the market, especially in terms of materials, colors, finishes, shapes, textures, etc. In today's article, PullCast Blog explores a comprehensive range of decorative hardware inspirations that could be of great assistance for one to upgrade their home interiors!
#1 – Bring Nature into your Home in the Shape of Jewelry Hardware
Interior design trends like biophilia or sustainable design were shaped as a way to connect one with a more natural environment, and consequently, improve one's well-being. Besides introducing greenery and an earthy color scheme, another excellent option that will allow you to bring a more natural, relaxing, and grounded touch to your interiors is adding design features, such as jewelry hardware, that take resemblance to nature-related matters.
#2 – Hardware with Maximal Features
While maximalism in interior design is often expressed through bolder paintings, extravagant fabrics, or highly decorated wallpapers, among others, one can always experiment with perhaps subtler accessories that still pack the same bedazzling nature. For instance, decorative hardware pieces such as the Acorn cabinet handle or the Limited-Edition Octo drawer handlecertainly embody a more maximal approach and bring an unrivaled sense of peculiarity and character to any type of furnishings.
#3 – Create a Fluid Narrative Through Decorative Hardware
There's nothing more intriguing than an object that tells a story with a simple glance. When a certain design benefits from a fluid narrative, it can easily become the focal point of a division. Take, for example, the Strelitzia door hardware, a detailed piece inspired by what many considered to be the "flower queen" for centuries, native in South Africa.
Here's a bit of backstory behind this highly curated piece. Otherwise known as the Crane or bird of paradise flower due to its similitude to the Paradisaeidae species, it represents faithfulness, love, and thoughtfulness. The paradisal and delicate aesthetic of said flower was then translated in a fluid manner into an exclusive decorative hardware piece whose silhouette portrays a dash of romanticism and subtle refinement when placed in modern or contemporary interiors.
#4 – Introduce Organic Designs
Organic designs have always been one of the most sought-after trends in interior design, especially due to their flowing natural forms, undulating lines, and powerful arches. Furthermore, nature also plays a humungous role in the aesthetic of this design style and many often resort to introducing warm and natural materials such as brass, rattan, linen, and timber into their interiors, achieving that much-desired handcrafted look. PullCast's Flow door pull is an invigorating example of such as its fluid and organic forms are further
accentuated by its brass silhouette, creating a rather strong character.
#5 – Timeless Hardware FInishes like Copper and Nickel
It is universally known that golden finishes will always be in fashion, however, due to the world's current climate, opting to use finishes with more hygienic properties is bound to become the norm, and copper and nickel find themselves at the top of the list. Perfect for kitchen and bathroom hardware, both of these finishes possess a metallic aesthetic that offers a warm and soft glow to an interior. In addition, copper and nickel blend splendidly with textural surfaces or furnishings.
#6 – Dramatic Accents like Textured Hardware
While simplicity may be the norm for most in decoration, sometimes introducing the extra little dramatic accent can certainly bring a whole level of edginess to a space, case in point, textured hardware. Knurled pulls or knobs also pose as a great alternative. For those who quite keen on using metals and mixing different finishes and materials, this assuredly is a trend to follow.
#7 – Mixing Up Different Types of Hardware
This trend hasn't always been looked upon with positive feedback in the past, but it is certainly growing as it allows homeowners to diversify their kitchen and bathroom interiors. Pairing knobs and pulls in the same space can actually feel fresh, especially if the cabinetry and hardware piece benefits from different colors.
#8 – Ocean Hues & Inspirations
Black will be one of the most dominant colors of the year, nonetheless, ocean-inspired hues such as aqua, turquoise, or inky blues are bound to also be everyone, especially due to the calm and contemporary aesthetic that they translate. Furthermore, ocean-inspired designs are highly popular because they are associated with things such as peace and comfort, and with our present times, these are two characteristics people seek after, plus they manage to give a distinctive touch décor-wise, take, for instance, the Urchin and Linckia drawer handles.
If you want to discover more about the exclusive and luxurious world of PullCast and our elegant collections of decorative and architectural hardware, then feel free to follow us on social media: Facebook, Pinterest, Twitter, Instagram, Linkedin, and Youtube!