Be Amazed By High-Luxury Living Rooms
Be Amazed By High-Luxury Living Rooms - Living rooms should always achieve the perfect balance of comfort and style. PullCast attempts to provide the most inspiration in a world full of fads and trends. Today, PullCast Blog has invited the expertise of some of our favorite interior designers and luxury design businesses to highlight design brilliance.
See also: Decorative Hardware Designs For Living Room vs Bedroom

Be Amazed By These
High-Luxury Living Rooms By Renowned Designers

Less is more, restrained décor, subtle and calm – all adjectives to define Alix Lawson's interior design firm in London. Alix's business is more than a design firm since she believes that simplicity is a new luxury, and she seeks to revolutionize the way we see and experience our homes.  
Pierre Yovanovitch has earned a name for himself across the world via very prominent design projects that clearly show his made-in-France style, where strong underpinnings of absolute luxury support a pure vision of interior architecture. Indifferent to passing fads and trends, Pierre Yovanovitch creates imposing design projects that persuade by the power of their well-conceived architectural presence and warm modernity, while gracefully avoiding both complication and ostentation.  
See also: Larch Cabinet Handle

If You Enjoyed These High-Luxury Living Rooms
Check These Exquisite Living Designs By Luxxu
This dream house in Miami is something to marvel at, isn't it? The lounge room is furnished with timeless upholstery and brand-new furniture pieces.  
Luxury and elegance are obvious in this living room of this Deluxe Apartment in Moscow, blending a modern language with a sumptuous environment and impressing us with the harmony that the entire project envisions.  
A perfect piece of refined upholstery is all you need to captivate and inspire your guests. The Saboteur Swivel Single Sofa in this living room ambiance gives a more classy and exclusive look while giving out the perfect swivel style.  
A simple living room decoration can be the most effective way to achieve an appealing aesthetic. The Opera Two Seat Sofa adds a refined touch to any attractive setting The silky velvet texture guarantees that it is as comfortable as it is attractive.  
See also: Kesya Door Lever
In Need Of More Inspiration?
Marvel Also At These High-Luxury Living Rooms By Other Luxury Brands
Karim Abdul Muttalib of K.A. Interior Design created a premium living room design blending a 16th-century French royal mood into an Arabic style as part of yet another incredible collaboration with Covet House.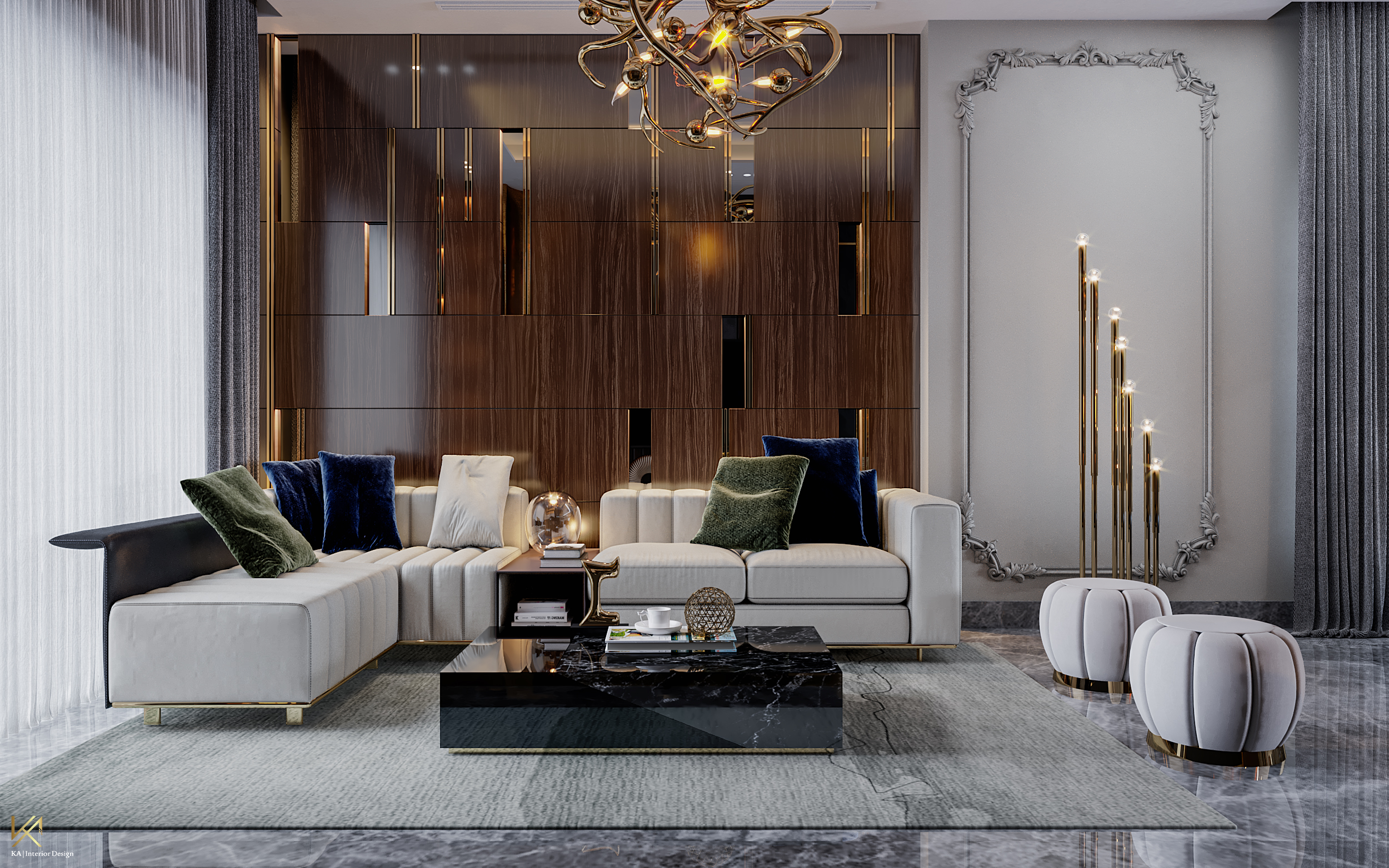 The creative décor is reminiscent of a French Chateau from monarchy and aristocracy, but with very current and modern classic features and furnishings.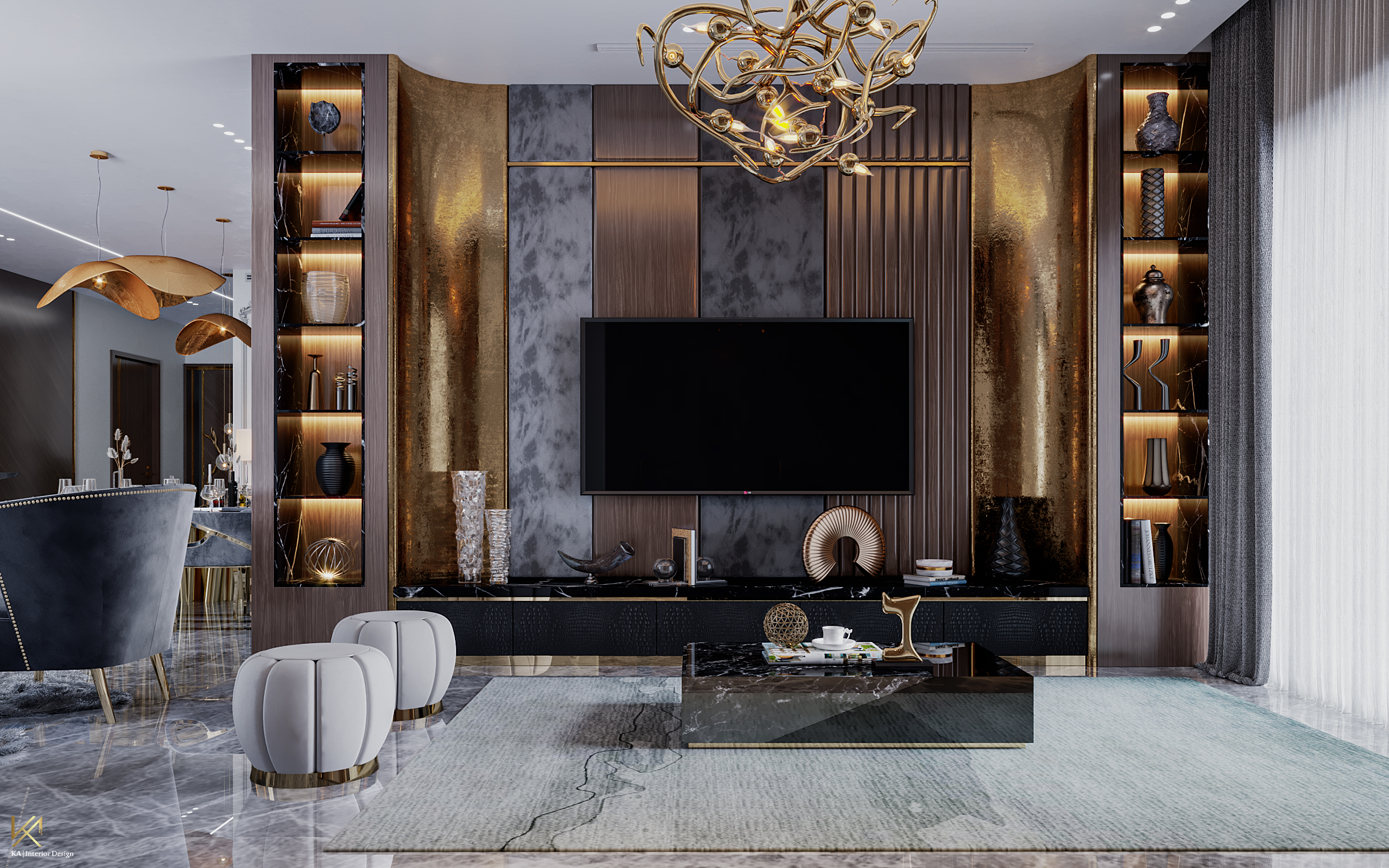 The gold finishes elevate the living room to a luxury level, while the furniture and accessory items play a significant part in raising it to art. What is your favorite piece on this page?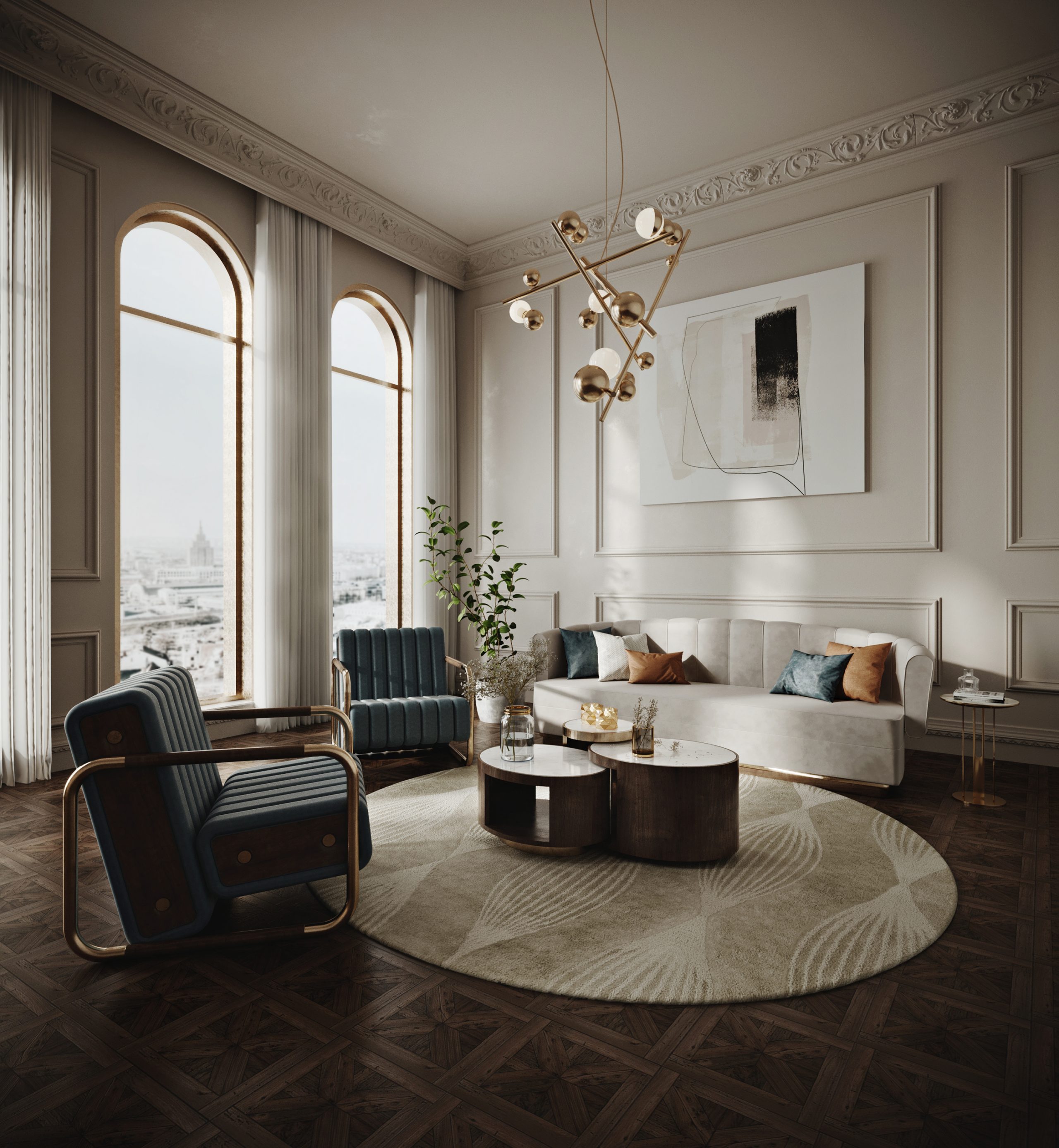 Functionality, simple lines, minimal decoration, the juxtaposition of contrasting materials, and, of course, prominent cinematographic and musical allusions characterize the mid-century modern design. The Minnelli Armchair combines all of these elements.  
See also: Living Room Design: Outstanding Luxury Sideboards with Brass Hardware
Discover the exclusive and luxury world of 
PullCast
and dive into our amazing and elegant list of decorative and architectural hardware products. Did you like our article
Be Amazed By High-Luxury Living Rooms

?
Let us know! They will help you elevate and transform your home decor or your interior design project into a unique experience! For more inspiration regarding decorative hardware, follow us on
Facebook, Pinterest, Twitter, Instagram, Linkedin, and Youtube
!