50 LUXURY SIDEBOARDS – FUNCTION AND STYLE COMBINED IN MAXIMUM ELEGANCE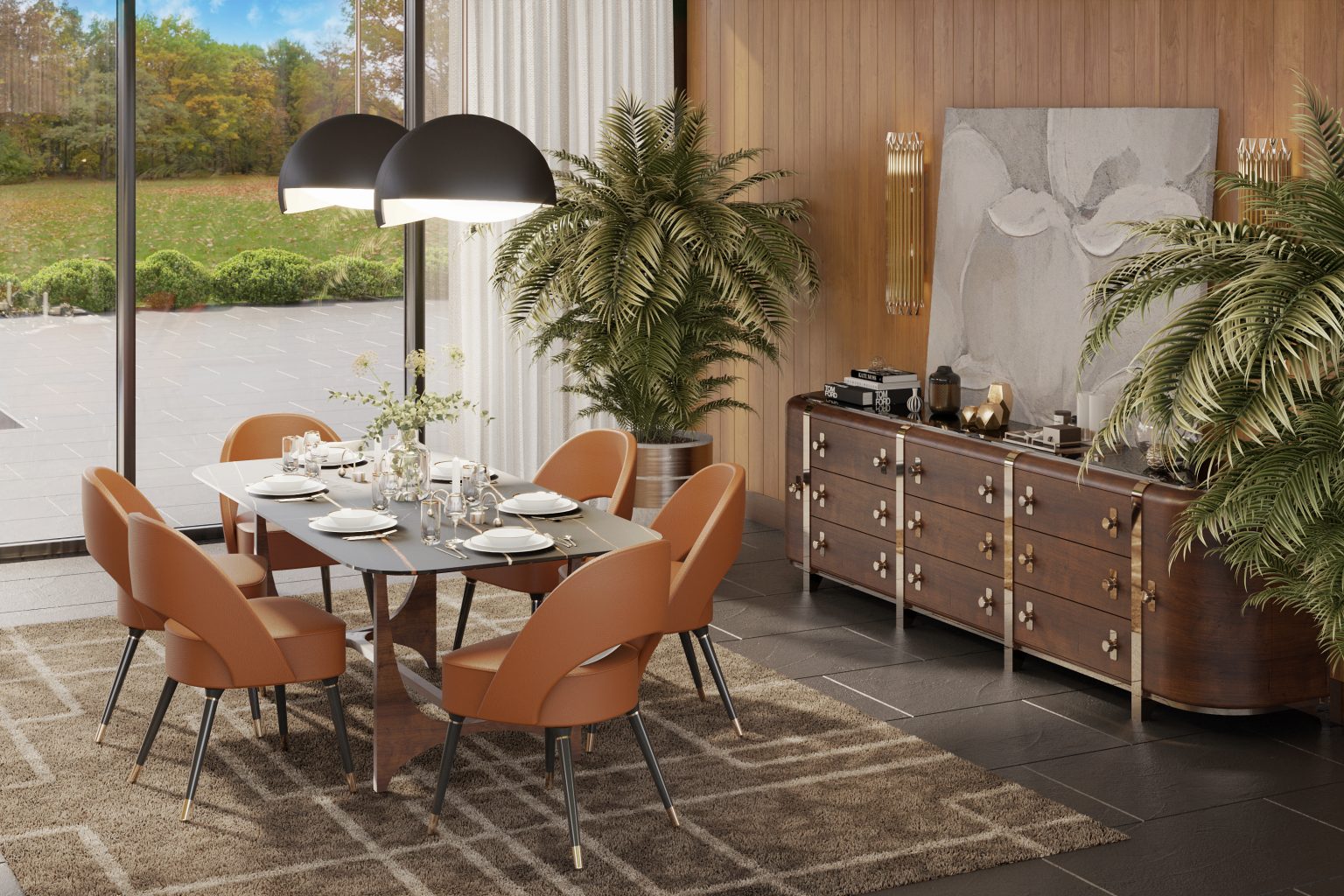 50 LUXURY SIDEBOARDS – FUNCTION AND STYLE COMBINED IN MAXIMUM ELEGANCE – A true home must be an embodiment of its owner's style, taste, and personality. As a reflection of these very specific traits, luxury sideboards can easily transcend the function of furniture and become masterpieces that can transform living spaces into opulent sanctuaries. The PullCast Blog presents you with not one, not two, not even 10, but 50 luxury sideboards from premium brands and high-end designers, for you to find the one that will better fit your interior design needs. Which one will you choose?
---
SEE ALSO: How to Harmonize Color in Interior Design – Creating Moods With Hardware
---
50 LUXURY SIDEBOARDS
FUNCTION AND STYLE COMBINED IN MAXIMUM ELEGANCE
1. Algerone Sideboard by LUXXU
Designed by LUXXU, the Algerone Sideboard blends opulent materials with practicality, featuring elegant smoked glass doors that will let you peek into its contents. With the commanding presence of Statuario marble and the lavish touch of polished brass accents, it's a contemporary masterpiece ideal for elevating the style of dining rooms or hallways.
2. Vittoria Sideboard by CASA FENDI
PHOTO: © Fendi Casa
The Vittoria sideboard by FENDI CASA reimagines retro style with its unique fluted panels crafted from Pequin-effect sandblasted glass and accented with lacquered wood details. The top offers versatile options, including natural oak, American walnut, and sycamore frisé finishes. This design achieves a tactile harmony through its matte-finished metal elements, base, internal wooden frame, transparent glass shelves, and leather handles, resulting in a distinctive and stylish piece. In a nutshell? Pure timeless class!
3. Symphony Sideboard by BOCA DO LOBO
BOCA DO LOBO's Symphony Sideboard is a remarkable piece, drawing inspiration from the majestic organ pipes of classic churches and meticulously handcrafted by a team of skilled artisans, including goldsmiths and wood carving experts. To match the tubular organ effect, this majestic piece features a robust wooden frame adorned with a tubular arrangement of either gold or nickel-plated brass tubes. This harmonious fusion of artistry adds rhythm and sophistication to any space! The Symphony is grounded by a sturdy black lacquered base, while its top is elegantly finished in opaque black glass. Inside, you'll find a sleek ebony veneer interior with a central smoked glass shelf, marrying practicality with an accent piece that can gracefully command attention in even the most tranquil of spaces.
4. Latte Sideboard by CAFFE LATTE
Elevate your contemporary design with the Latte Sideboard: a statement piece exuding strength and charisma. Its sleek lines and confident demeanor make it the ideal addition to any modern space. This versatile and functional gem is adorned in a lustrous high-gloss cream finish, gracefully resting on dark bronze matte feet. The Latte Sideboard, by CAFFE LATTE, effortlessly infuses warmth and character into a minimalist design, creating an inviting ambiance and embracing the essence of hygge.
5. Vittorio Sideboard by ESSENTIAL HOME
The Vittorio Sideboard is a tribute to the legendary Vittorio Gassman. Its design, a masterpiece of sophistication, echoes the graceful curves found in nature's most captivating creations. Picture the wooden body, gracefully adorned with H-shaped golden legs and handles. Every detail is meticulously crafted to reflect beauty. But there's more to this sideboard than meets the eye: As you run your fingers across the ESSENTIAL HOME creation's surface, you'll discover the recessed marble top, a testament to the pursuit of luxury and refinement.
---
SEE ALSO: Join PullCast On Its Way To Hábitat València
---
6. Zephyrus Sideboard by ROCHE BOBOIS
PHOTO: © Roche Bobois
Crafted by the visionary mind of Giacomo Garziano, the Zephyrus Sideboard effortlessly marries nature's biomorphic beauty with the precision of applied mathematics. This sculptural marvel unveils its wings gracefully, much like a butterfly, unlocking fresh realms of design and innovation. Zephyrus, from the ROCHE BOBOIS catalog, isn't just a collectible; it's an embodiment of conceptual rigor and boundless imagination. A masterpiece limited to just 55 pieces, it beckons those who seek to explore the limitless horizons of creativity.
7. Stiletto Sideboard by VERSACE HOME
PHOTO: © Versace Home
The Stiletto Sideboard by VERSACE HOME embodies a symphony of clean, precise lines, daring hues, and impeccable artistry. Its crowning glory is a choice between the opulence of Carrara Gioia or the sophistication of Marquina black marble, while an alternative version beckons with extra clear glass. The backdrop, a satin grey varnish, adds a touch of refinement. The doors, dressed in glossy lacquered Ebony Macassar, offer a striking allure but also indulge in alternatives like leather or an array of Versace's signature jacquard fabrics. Even the handles pay homage to the Versace legacy, crafted in steel and adorned with the iconic Medusa 3D metal logo. This sideboard is a masterpiece of style, luxury, and craftsmanship. Irresistible for fashion lovers!
8. Oblong Sideboard by BOCA DO LOBO

The Oblong Sideboard seamlessly blends modern and timeless elements, resulting in an intricately detailed and exceptionally imaginative limited-edition furniture item. Tailored to serve as a bold focal point within modern living spaces, it sets new standards for luxurious interior decor. Painstakingly crafted by BOCA DO LOBO's most skilled artisans, this opulent sideboard emerges from innovative production techniques honed to create truly unique design masterpieces.
9. Kahn Sideboard by ESSENTIAL HOME
Prepare to welcome the commanding presence of Kahn, an ESSENTIAL HOME design, into your living or dining room, where dark sophistication reigns supreme. This extraordinary piece is the secret weapon of luxury interiors, and it's ready to make a statement that'll leave your guests in awe. It flaunts a stunning high-gloss varnish that dances atop its lacquered wood surface (black is also an option). Adorned with PullCast's Monocles Drawer Handles, meticulously arranged in perfect symmetry, this sideboard effortlessly blends durability, elegance, and opulence.
---
EDITOR'S CHOICE
Monocles Drawer Handle + Monocles Drawer Handle
---
10. One Sideboard by KARTELL
PHOTO: © Kartell
The One Sideboard by KARTELL is a stunning fusion of contemporary design and functional elegance. With its sleek lines and minimalist aesthetic, it effortlessly complements any modern interior. Durable and of undisputed quality, this sideboard offers ample storage space concealed behind its smooth, clean facade. Its versatility and timeless style make it a perfect addition to both residential and commercial spaces, adding a touch of sophistication and organization to any room.
11. Brutalist Buffet by WILLIAM D SCOTT
PHOTO: © William D Scott
Introducing the Brutalist Buffet by WILLIAM D SCOTT, a bold and captivating statement piece designed to elevate your space. Crafted with a robust solid wood frame, this buffet boasts a multi-level design that is beautifully complemented by the striking satin brass hardware, echoing the abstract patterns of its design. Behind its four doors, you'll discover ample storage shelves and a thoughtful cable port for convenient electrical wire management. This buffet not only captures attention but also offers practical functionality, making it the ideal addition to your decor.
12. Latilla Credenza by GLOBAL VIEWS
PHOTO: © Global Views
The Latilla Credenza, by GLOBAL VIEWS, draws inspiration from the organic architectural shapes found in adobe brick structures and the harmonious, symmetrical arrangement of vigas and latillas in adobe house ceilings. Rooted in Spain and North Africa, it has become an iconic symbol of the American Southwest. Crafted from mango wood, birch veneer, and adorned with brushed brass metal accents, this piece pays homage to its rich heritage while adding a touch of rustic elegance to any space.
13. Carol Benson-Cobb's Entanglement Sideboard JOHN-RICHARD
PHOTO: © John-RIihard
Presenting the Entanglement Sideboard by JOHN-RICHARD, a four-door marvel in a stylish pewter finish adorned with an elegant églomisé top. The distinctive glass door fronts feature a stunning reproduction of Carol Benson-Cobb's eponymous captivating painting, adding a touch of artistry to your living space.
---
EDITOR'S CHOICE
Baruka Cabinet Handle + Caviar Cabinet Handle
---
14. Antin by ESSENTIAL HOME
Crafted from premium materials like brass, marble, and velvet, the Antin Sideboard, by ESSENTIAL HOME, is a magnificent embodiment of mid-century design at its finest. This versatile piece is not confined to a single room; it effortlessly organizes and showcases your prized possessions in the dining room, living area, or even the bedroom. With its understated yet captivating presence, it sprinkles a hint of retro charm throughout any interior, making it a sought-after choice for those who crave both style and functionality.
15. Lapiaz by BOCA DO LOBO
The Lapiaz Sideboard represents a leap into a realm of extraordinary craftsmanship and design. Its organic characteristics are achieved through meticulous manual assembly of polished brass and a striking glossy black lacquer finish that radiates from the interior to the distinct exterior surfaces. Diverse door and drawer shapes are adorned with meticulously hammered gold accents, imparting a sense of sophistication and refinement to infuse a fresh contemporary vitality into upscale interiors. This luxurious sideboard derives its inspiration from genuine karst formations formed through the surface dissolution, freezing, or thawing of dolomite rocks, and illustrates the ability of the great minds behind BOCA DO LOBO to uncover beauty in the most unexpected of sources.
---
SEE ALSO: SEE ALSO: Discover Premium Door Pulls On Sale
---
16. Boma Sideboard by CAFFE LATTE
In East South Sudan, where nature's wonders unfold, the Boma Plateau, is a hidden gem, and home to one of the world's rarest treasures: wild coffee arabica. This mesmerizing landscape has sparked the imagination of CAFFE LATTE creatives, inspiring the Boma Sideboard, a design masterpiece. Intriguingly, this sideboard captures the spirit of this unique region. Its organic pattern, crafted from aged decape wood, mirrors the majestic mountains that rise from the Boma plains. The use of the specific Decapé veneer renders this sideboard a modern and distinctive design, a true reflection of the extraordinary beauty found in the heart of the Boma Plateau.
17. Anthony Sideboard by ESSENTIAL HOME
A mesmerizing fusion of retro charm and contemporary flair gives birth to a mid-century modern sideboard that's nothing short of a style sensation? Meet the Anthony Sideboard, an incredible ESSENTIAL HOME creation. Crafted with a robust structure hewn from the finest solid walnut wood, this sideboard boasts exquisite detailing and stands regally upon a base that gleams with polished brass. Its very presence is a captivating story waiting to unfold, an inspiring piece that requires no formal introduction.
18. Anjelica Sideboard by CAFFE LATTE
Meet the Anjelica Sideboard, a sophisticated storage masterpiece tailored for the contemporary dining space with the CAFFE LATTE signature. Crafted with the finesse of ash wood, it boasts an exquisite top fashioned from the exclusive White Vogue Estremoz marble, adorned with gleaming polished brass accents and supported by sleek Nero Marquina legs. Anjelica offers both functionality and style, with four convenient drawers and two side doors concealing thoughtfully designed shelves within.
---
EDITOR'S CHOICE
Skyline Drawer Handle + Waltz Drawer Handle
---
19. Maison Lacroix by ROCHE BOBOIS
PHOTO: © Roche Bobois
Unveiled by the creative genius of Christian Lacroix Maison exclusively for ROCHE BOBOIS, this storage unit is a masterpiece in Louro Preto veneer on MDF. It effortlessly marries form and function, with three doors equipped with a smooth push-to-open mechanism. The left and central doors are adorned with the captivating "Arles" print on the outside, while the inside showcases the charming "CABANON" design. The unit boasts two wooden shelves nestled within the side doors, and its base features the rich Louro Preto veneer on Acacia, accentuated by polished stainless steel embellishments in a radiant brass finish. With an option for various dimensions, the Maison Lacroix Sideboard is a design statement that transcends expectations.
20. Over the Edge Sideboard by CARACOLE
PHOTO: © Caracole
Elevate your traditional dining experience with the Over the Edge Sideboard by CARACOLE. This contemporary masterpiece, finished in Warm Slate and adorned with a blend of polished marble and stone, seamlessly marries modern aesthetics with timeless charm. Graphic slat accents add a unique dimension to its design, while it stands gracefully on tapered Champagne Gold metal legs. Whether you're hosting gatherings or enhancing your living spaces, this sideboard shines with its generous storage capacity, featuring two drawers, adjustable shelves, and concealed storage space behind touch-latch doors. Make a statement in your living room, hallway, or entryway with this versatile piece of furniture.
21. Origami Sideboard by AMBELLA
PHOTO: Ambella

AMBELLA's Origami Cabinet offers versatile elegance for any space. With three doors, each concealing an adjustable shelf and a convenient 2" grommet for electronic component wiring, it seamlessly blends functionality and style. This cabinet can serve as a sideboard or a captivating focal point in any room. Crafted from mahogany solids and veneers, it features an ash gray finish that complements the three doors' painted white, sepia glaze finish. Two striking solid brass pulls with a natural finish and a steel base with a golden leaf finish add a touch of luxury to this exceptional piece.
22. Diamond Emerald by BOCA DO LOBO
A true testament to timeless artistry, the Diamond Emerald Sideboard emerges as a precious gem, boasting avant-garde contours that push the boundaries of form. Drawing inspiration from the deconstructivist movement in postmodern architecture, this contemporary storage piece is meticulously crafted from wood, enveloped in silver leaf with a distinctive emerald translucence, and crowned with a high-gloss varnish. This extraordinary piece, conceptualized by BOCA DO LOBO, is gracefully supported by a sleek golden base, folding into an iconic design—a true embodiment of exclusivity and a coveted collectible in the world of high-end design.
23. David Sideboard by ESSENTIAL HOME
Prepare to be captivated by the Davis Sideboard by ESSENTIAL HOME: a harmonious blend of opulence and mid-century charm that's poised to steal your heart. This stunning piece strikes a flawless equilibrium between contemporary elegance and the allure of the past. Crafted with precision, it features lustrous lacquered wood that exudes sophistication and polished brass accents that add a touch of luxury.
24. Reform Sideboard by JONATHAN ADLER
PHOTO: Jonathan Adler
The Reform Credenza, designed by JONATHAN ADLER, draws its inspiration from iconic Brutalist architecture, such as Le Corbusier's Ronchamp and Miami's Temple Israel, to Brasília's Cathedral. The distinctive pattern, originally sculpted as a relief texture in our Soho pottery studio, is meticulously carved onto wooden doors and then enveloped in a single, hand-hammered, and polished brass sheet. This labor-intensive process, taking eight to 12 hours per door, ensures perfection. The credenza features an oak cabinet, ebonized and limed, resting on solid brass legs, with exquisite details like a subtle bevel on the oak casing and a sleek float between the oak and brass cabinet. Complete with touch-latch closing mechanisms, the Reform Credenza exemplifies couture craftsmanship at its finest.
25. Imany Buffet by BERNHARDT INTERIORS
PHOTO: © Bernhardt
The Imani Buffet by BERNHARDT INTERIORS is a stunning embodiment of modern elegance. Its exterior is adorned with a Nero Marquina laminated stone overlay that graces the front and edges of three push-to-open, soft-close doors, adding a touch of sophistication to its design. The case top, end panels, and interior are crafted from engineered veneer in a rich Onyx finish, completing the luxurious aesthetic. Inside, you'll find a well-thought-out storage solution, featuring one fixed shelf, two drawers with hand-pull cutouts, and two adjustable/removable shelves per case.
---
---
26. 555 Hayama Sideboard by CASSINA
PHOTO: © Cassina
Presenting the 555 Hayama, a creation by Patricia Urquiola for CASSINA, an exquisite sideboard that marries form and function with finesse. This masterpiece boasts two elegant flap doors and stands gracefully on oblique legs. Its design is a harmonious blend of linear, precisely geometric shapes, featuring a glossy lacquered wood exterior complemented by the rich texture of matt gray wood with a briar effect. Inside, you'll discover transparent glass shelves, adding a touch of transparency and sophistication to its practicality. The 555 Hayama is a true testament to the art of design and that it why it is among the 50 luxury sideboards selected by the PullCast Blog.
27. Damacle Sideboard by ARMANI / CASA
PHOTO: © Armani / Casa
The Damacle Sideboard, a creation from ARMANI / CASA, boasts a striking design featuring slender ribbon-like metal legs. Its central section houses a spacious compartment accessed via two doors, complete with a central shelf for versatile storage. Additionally, a discreet cable management opening at the rear facilitates the seamless integration of hi-fi equipment (such as Blu-ray players, DVD players, and gaming consoles), enabling this piece to double as a sleek TV unit. Flanking the central unit are two outer sections, each equipped with three drawers adorned with stylish metal handles for easy access.
28. Zio Buffet by MOOOI
PHOTO: © Marcel Wanders
The Zio Buffet by Marcel Wanders, for MOOOI, offers a perfect spot to store important documents, cherished photographs, and nostalgic keepsakes. It combines a sturdy and sophisticated look with a hint of whimsy. Whether safeguarding your most precious possessions or elegantly displaying flower vases and car keys, it does so with grace and style.
29. Symphony Small Sideboard by BOCA DO LOBO
A smaller but not lesser stylish version of the aforementioned Symphony Sideboard, by BOCA DO LOBO, inspired by the intricacy of tubular church organs. To accomplish an equivalent visual effect, this sideboard features a strong wood frame adorned with a tubular puzzle of either gold or nickel-plated brass tubes. Which do you prefer?
---
EDITOR'S CHOICE
Ergos Drawer Handle + Infinity Drawer Handle
---
30. Dandy Sideboard by ESSENTIAL HOME
Step into the world of Dandy, as envisioned by ESSENTIAL HOME, a sideboard that harmoniously marries the best of Scandinavian design with the allure of mid-century style. At first glance, you'll be charmed by its design, reminiscent of a kitsch radio with doors adorned in grill cloth, but versatility is its middle name. This sideboard effortlessly transforms into a drinks cabinet, making it a perfect addition to your living room and for memorable gatherings.
31. Papillon Sideboard by ROCHE BOBOIS
PHOTO: © Roche Bobois
René Bouchara, a visionary designer hailing from Paris and steeped in the creativity of New York, conceived a sideboard that embodies the delicate grace of a butterfly and the sleek elegance of a sports car. This limited-edition masterpiece for ROCHE BOBOIS is a reflection of his artistry, with its glossy lacquer finish accentuating the sinuous and dynamic lines that define the Papillon Sideboard's form. In this fusion of nature's beauty and automotive allure, Bouchara's creation is a captivating tribute to art and design.
32. Delphine Credenza by JONATHAN ADLER
PHOTO: © Jonathan Adler
Experience the perfect fusion of minimalist sophistication and maximalist glamour with the Delphine Credenza from JONATHAN ADLER. Its stunning antiqued mirror exterior gracefully rests on a polished brass base, creating a harmonious blend of materials. The credenza features two double-door compartments that open to reveal a delightful robin's egg blue interior, thoughtfully equipped with two adjustable shelves. Quatrefoil handles and escutcheons adorn the sleek design, adding a touch of decorative flair to this elegant piece.
33. Diamond Pyrite Sideboard by BOCA DO LOBO
Drawing inspiration from the deconstructivist movement in postmodern architecture, the Diamond Pyrite Sideboard is crafted from polished stainless steel, boasting sharp, avant-garde lines that defy conventional forms, resulting in a truly unique silhouette. It features two brass-plated feet adorned with intricate cast brass details. The sideboard boasts two meticulously sculpted drawers and two doors, revealing an exquisite wood veneer interior with a clear glass shelf. This masterpiece from BOCA DO LOBO reflects the pinnacle of craftsmanship, fusing ancient artisanal skills with mechanical precision to epitomize exclusivity and become a coveted collectible in the world of high-end design.
34. Rondos Sideboard by CASSINA
PHOTO: © Cassina
Envisioned by the visionary Patricia Urquiola for CASSINA, Rondos is a masterpiece of design, a sideboard adorned with soft, rounded contours that gracefully embrace its sides. These gentle curves infuse a sense of informality and irresistible allure into both living rooms and bedrooms, making it a welcoming addition to any space.
35. Duncan Sideboard by ESSENTIAL HOME
Immerse yourself in the mesmerizing fusion of mid-century allure and the unmistakable Italian design with the Duncan Sideboard. This masterpiece is a captivating journey that pays homage to the charisma of the sixties while ushering it into the modern era. Behold the elegant curves of the metal structures that lovingly embrace the side doors, each curve a tribute to the artistry of Italian craftsmanship, by ESSENTIAL HOME. The main storage space is adorned with a wooden pattern, a subtle touch that elevates this sideboard to a league of its own.
---

---
36. No Screw No Glue Buffet by JOOST VAN BLEISWIJK
PHOTO: © Joost Van Bleiswijk
The No Screw No Glue Buffet, designed by JOOST VAN BLEISWIJK provides a deeply satisfying experience of hands-on creation, as its name suggests: it assembles effortlessly without screws, glue, or tools. Simply slide the components together to form the buffet's structure. This exceptional piece is crafted from Richlite, an environmentally-conscious, long-lasting material derived from recycled paper, responsibly sourced wood, and EcoBind resin. Notably, it offers high-impact resistance, ensuring your creation stands the test of time.
37. Diamond Metamorphosis by BOCA DO LOBO
Introducing a wow factor on one of BOCA DO LOBO's most renowned creations, the Diamond Metamorphosis Sideboard embarks on a journey of transformation, venturing into an entirely new aesthetic dimension. By fusing the concept of metamorphosis, often linked to the evolutionary journey of insects, with the philosophical underpinnings inspired by Kafka's seminal work, The Process, this conceptual piece delves into the profound exploration of beauty's essence and aims to stir thought-provoking responses.
38. Angra Sideboard by BOCA DO LOBO

This striking black and gold sideboard boasts a bold yet elegant design. Its sleek body is entirely coated in a high-gloss black finish and rests gracefully on an unexpected curved base, crafted from hammered polished brass, inspired by the dramatic cliffs of Angra do Heroismo in the Azores, Portugal. The Angra Sideboard features four doors adorned with sophisticated pulls in diverse organic shapes, revealing single drawers within each compartment. It's a testament to BOCA DO LOBO'S exquisite craftsmanship, culminating in a top surface adorned with luxurious Shara Noir marble.
---
EDITOR'S CHOICE
Baruka Drawer Handle + Toile Drawer Handle
---
39. Monocles Sideboard by ESSENTIAL HOME
For those who adore the allure of retro aesthetics and hold mid-century design in the highest regard, allow us to introduce you to the Monocles Sideboard, by ESSENTIAL HOME, an embodiment of charm and luxury like no other. The front doors, bathed in lustrous gold-plated brass, bear a distinctive circular motif that pays homage to the iconic gun barrel scene from classic Bond movies. It's a cinematic tribute that breathes life into your living space, infusing it with a sense of timeless glamour.
40. Tenor Sideboard by LUXXU
The Tenor Sideboard is a striking and refined addition to any setting, boasting a sleek and sophisticated design that captures the spotlight. Its classic black lacquer finish and clean lines emanate poshness, complemented by a textured surface that infuses a timeless edge. This sideboard seamlessly blends ample storage capacity with a polished brass frame, striking a harmonious balance between functionality and opulence. Designed by LUXXU, it clearly stands as a true statement piece for those with a discerning appreciation for exquisite design.
41. Tiretto Sideboard by FENDI CASA
PHOTO: © Fendi Casa
The Tiretto Sideboard is an artisan-crafted, versatile, and exceptionally unique storage solution. Its design features clean, geometric lines that exude a clean, contemporary aesthetic, while the slender tubular metal frame adds an unexpected sense of airiness and modern flair. The inclusion of leather handles adorned with the iconic FF logo draws inspiration from FENDI's renowned leather craftsmanship, adding a touch of boldness to this remarkable piece.
42. Monocles II by MID-CENTURY CLUB
For enthusiasts of all things retro and admirers of the mid-century era, the Monocles II Sideboard is the epitome of perfection. It exudes an irresistible charm and opulence that seem plucked from the pages of a Bond movie, making it a truly exceptional addition to your living space. This MID-CENTURY CLUB take is a bold statement piece that will elevate your decor to new heights of sophistication and allure.
43. Edith Sideboard by ESSENTIAL HOME
Meet the remarkable Edith Sideboard, a standout piece within the mid-century ESSENTIAL HOME's collection. Crafted with a sturdy, solid wood structure for enduring durability, it's dressed in sumptuous soft velvet that exudes opulence. But what truly sets it apart is the exquisite grey textured marble adorning its top, elevating its aesthetics to the pinnacle of high-end luxury.
44. Wonder Sideboard by ROCHE BOBOIS
PHOTO: © Roche Bobois
Marcel Wanders' Globe Trotter collection is an ode to intrepid explorers who scoured the globe for treasures and cultures, breathing life into his signature spirit of openness, freedom, and boundless inspiration. Behold the Wonder Sideboard, a masterpiece with a round display, reminiscent of a submarine's porthole, concealing a hidden surprise within. Unlock its interior, and you'll discover the stunning and vibrant prints from the Globe Trotter fresco, also crafted by the visionary Marcel Wanders himself, for ROCHE BOBOIS. Can you imagine a journey of discovery right in your living space?
45. Ultramarine Sideboard by JONATHAN ADLER
PHOTO: Jonathan Adler
We are pleased to introduce you to the Ultramarine Credenza from JONATHAN ADLER, a captivating sideboard that infuses a touch of oceanic allure into any space, from your entryway to the bedroom. This mod dot pattern masterpiece is crafted from glass panes, exquisitely back painted in refreshing, Mediterranean-inspired blues and accentuated by polished brass edging. With its six generously sized soft-close drawers adorned with two brass pulls each, it strikes a harmonious balance of style and functionality. Whether placed in the hallway, behind the sofa, or paired with your dining table, this credenza effortlessly hits all the right notes in your decor composition.
---
---
46. Flat Sideboard by CASSINA
PHOTO: © Cassina
Introducing the Flat Sideboard by CASSINA, a testament to timeless, uncomplicated elegance within a range of design cabinets seamlessly harmonizing with diverse settings and interior decor styles. Crafted by the visionary Piero Lissoni, the sleek configurations of the Flat cabinet defy convention, offering a refreshing departure from the ordinary.
47. Oiseaux by CHRISTOPHER GUY
PHOTO: © Christopher Guy
Have you met the Oiseaux? A stunning sideboard from CHRISTOPHER GUY that exudes sophistication. Its distinguishing features include intricately carved handles, elegantly metal-tipped feet, and door panels adorned with exquisite bas-relief songbirds delicately etched into the radiant blonde wood. This versatile piece is perfect for storing books, barware, or your entertainment equipment, making it an ideal addition to any stylish living space.
48. Dia Sideboard by GIORGETTI
PHOTO: © Giorgetti
The Dia Sideboard by GIORGETTI stands as a testament to the harmonious fusion of wood and leather, where these two quintessential materials intertwine to create a captivating piece of furniture. This remarkable design not only showcases a deep appreciation for intricate detailing but also pays homage to the artistry of traditional woodworking methods. In every aspect of its construction, Dia embodies the perfect marriage of these elements, resulting in a piece that exudes both elegance and craftsmanship.
49. Utopia Sideboard by ÉRIC JOURDAN
PHOTO: © Éric Jourdan
At the core of the Utopia Sideboard, by ÉRIC JOURDAN, lies the doucine, a molding fashioned from the graceful blend of concave and convex arcs. This unique feature not only exudes originality but also challenges the bounds of technical intricacy. It crafts a seamless, undulating rhythm akin to gentle waves, bestowing an organic fluidity upon what could otherwise be a rigid and impersonal structure. Thus, this collection confidently and delicately asserts its individuality through a symphony of customizable options, most notably the exquisite top, available in either emperador stoneware or verde marble, inviting you to tailor your own design narrative.
---
EDITOR'S CHOICE
Hendrix Door Pull + Hendrix Door Pull
---
50. Hendrix Sideboard by ESSENTIAL HOME
Last but not least, a masterpiece of mid-century design that doubles as a timeless statement piece for your home. Some may say it is actually a TV cabinet, but we don't care, as this design shines for itself. Embodying the essence of mid-20th-century aesthetics, the Hendrix is a harmonious fusion of functionality and sophistication. Crafted with meticulous attention to detail, it boasts clean lines, sleek contours, and the use of natural materials like rattan, walnut veneer, and brass, evoking a sense of timeless elegance. It even features the iconic Hendrix Door Pull by PullCast, cleverly shaped like vinyl records, adding a touch of musical nostalgia to its design.
---
---
All 50 of these luxury sideboards are expressions of artistry, craftsmanship, taste, and uniqueness. Each one tells a story, and by including one in your interior design projects, you are not merely decorating a space but creating a home that will also be a place of wonder.
So, whether you prefer classic elegance, contemporary chic, or a little extra dose of edginess, there's a luxury sideboard out there waiting to elevate your living space to new heights of opulence. Browse through PullCast's Blog curation of 50 luxury sideboards: Explore these exquisite pieces and discover the perfect sideboard to define your space with luxury and style.
---
---
We are quite positive you have found the sideboard of your dreams among these 50 luxury sideboards. While you are wondering where to place your new piece of furniture and what color or finishes to choose from, feel free to browse through the PullCast Blog archives for inspiration. Don't forget to subscribe to our newsletter and follow PullCast on Facebook, Pinterest, and Instagram.