CHRISTMAS DECOR IDEAS: DECONSTRUCTING A UNIQUE LIVING ROOM SET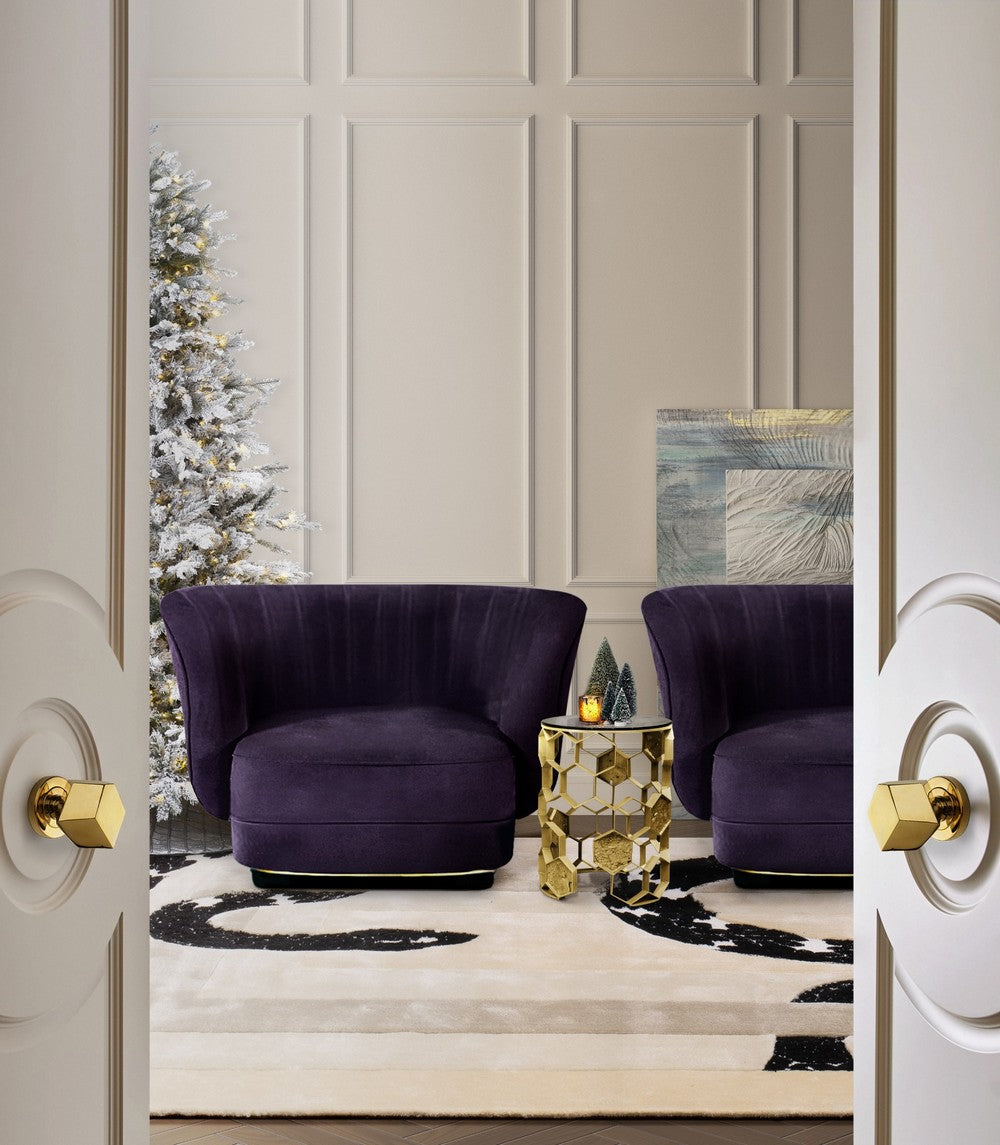 Christmas Decor Ideas: Deconstructing a Unique Living Room Set ⇒ With Christmas time fast approaching, it is always in good spirit to look for new ideas decor-wise to grant your home interiors a more magical and whimsical touch, and what better to start than the living room! 
The living room is certainly one of the best divisions for one to experiment, especially in regards to color, textures, and patterns, all in the good name of style and comfort. Nothing like the Christmas season to switch up a few things, and in today's article, PullCast Blog explores an exquisite Christmas living room idea that highlights a series of exciting design features, from a diamond-inspired hardware design to a highly comfortable armchair.
The Karat door knobs adorn the white doors of this unique Christmas decor living room idea. The design inspiration behind this exclusive hardware piece was the world of diamonds. Inspired by the fineness of a precious metal, the Karat door hardware allows one to create astounding design combinations with a unique sculptural scheme. Overall, its extravagant yet modern form draws down the same state of purity and uniqueness as a cut diamond does!
Upholstered in cotton velvet and with a base in glossy aged brass and black glossy lacquered, this curved back armchair with a distinctive form is bound to add refined elegance to any modern living room set and make this lovely season even more special and comfortable!
The Manuka side table is an exquisite piece that resembles a glorious beehive. The aged matte brass structure and bronze glass table top make this brass side table the perfect fit for a modern interior design.
If you want to bring a touch of originality to your living room decor during this time, then a rug such as this one is bound to do the trick. The hand-tufted imperial snake rug features cream colors in botanical silk framing that matches perfectly with the red and green hues associated with the Christmas season.
If you want to discover more about the exclusive and luxurious world of PullCast and our elegant collections of decorative and architectural hardware, then feel free to follow us on social media: Facebook, Pinterest, Twitter, Instagram, Linkedin, and Youtube!