DISCOVER CREATIVE TRIUMPHS AROUND THE WORLD WITH COVETED MAGAZINE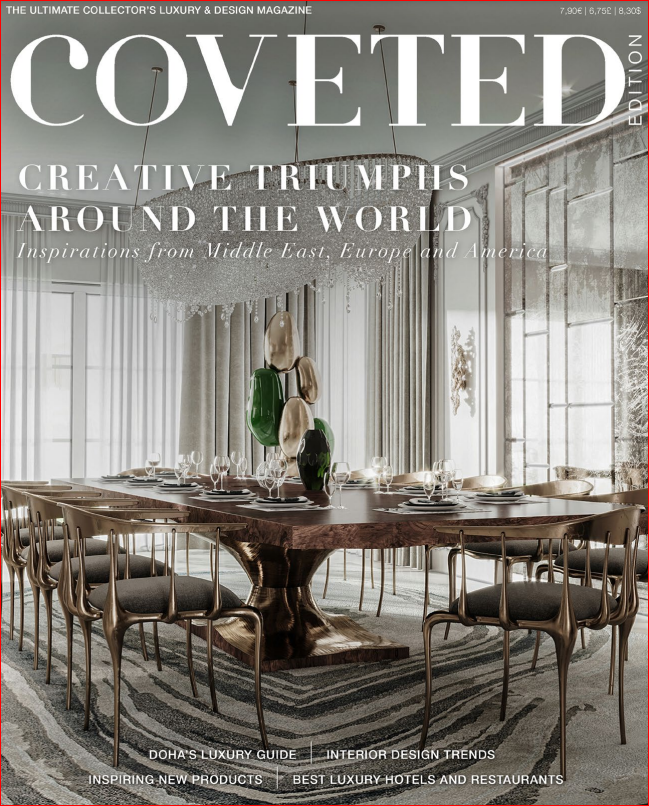 DISCOVER CREATIVE TRIUMPHS AROUND THE WORLD WITH COVETED MAGAZINE – For its latest issue, Coveted Magazine presents a carefully curated selection of creative triumphs from around the world. From trending interior designs to awe-inspiring destinations, this volume is guaranteed to leave a lasting impact on your next project. Want to go on a journey through the Middle East, Europe, and America, uncovering inspirations that will ignite your imagination and elevate your design endeavors? Then, this issue is for you! Want to learn more about its content? Keep on reading PullCast Blog.
---
SEE ALSO: The Timeless Appeal of Brass in Jewelry Hardware
---
Discover Creative Triumphs
From Around The World With Coveted
Exceptional Home Furnishes And Furniture For You to Discover
Finding the perfect furniture and home furnishings can be a daunting task. Bearing that in mind, Coveted Magazine has meticulously curated a handful of new products worthy of getting to know. Through deep research of the global design scene, a great selection of outstanding designs that exude craftsmanship, innovation, and style is brought to our attention. Get ready to be inspired by trending mood boards.
---
---
EDITOR'S CHOICE
Quantum Cabinet Handle + Crocodile Drawer Handle
Meet Innovative and Groundbreaking Designers
In the pursuit of unique solutions and groundbreaking ideas, Coveted Magazine shares its amazing encounters with talented designers who push the boundaries of creativity. Through insightful interviews, these design mavens present readers with their perspectives, inspiring them to explore unconventional shapes, textures, and materials. Prepare to be inspired with valuable insights for your own projects!
EDITOR'S CHOICE
Leaf Door Pull + Oceana Drawer Handle
Luxury Locations: Doha, Qatar
The present issue's luxury guide takes us on an extraordinary journey to Doha, Qatar, where opulence and sophistication intertwine. If you are curious about this location hidden's treasures, learn more about the must-see stores and prestigious brands that embellish the city. From mandatory events to the finest boutiques hotels and haute-cuisine restaurants, discover everything the city has to offer you. For those seeking exclusivity, private services, from exclusive clubs to private jets, are unveiled.
EDITOR'S CHOICE
Macaron Drawer Handle + Baruka Door Lever
---
SEE ALSO: Adapting PullCast's Designs to Different Styles
---
Inspiring Lavish Interiors
As expected, Coveted Magazine delivers a curation of the latest trends in home decor to be found in the "Lavish Interiors" section. Allow yourself to deep dive into a sea of creativity as you cross paths with the works of visionary interior designers both captivating and inspiring. Whether your style leans towards contemporary elegance or modern luxury, you will find feature articles showcasing luxurious design ideas that will leave you breathless.
Premium Destinations
Looking for Memorable Destinations? Prepare to embark on a journey of indulgence with Coveted introduction to a series of deluxe locations: extraordinary hotels and restaurants that have become icons in the world of luxury travel. From the exquisite IDAM by Alain Ducasse in Doha to the glamorous SLS Hotel Dubai and the sophisticated Edition Madrid, each destination promises an unforgettable experience that will leave you longing for more.
EDITOR'S CHOICE
Skyline Door Pull + Monocles Drawer Handle
In this issue, Coveted Magazine explores "creative triumphs from around the world", providing you with a wide range of inspiration and exclusive insights. From unique furniture finds to extraordinary destinations, the selected suggestions are prone to ignite your creativity and elevate interior design.
---
Do you like this content about the Coveted latest issue? Ready to discover creative triumphs around the world? PullCast Blog strongly recommends you spend an afternoon in the company of this greatly curated magazine. Follow us on Facebook, Pinterest, and Instagram for more updated content.