EMBRACE THE MAGIC WITH KIDS BESPOKE HARDWARE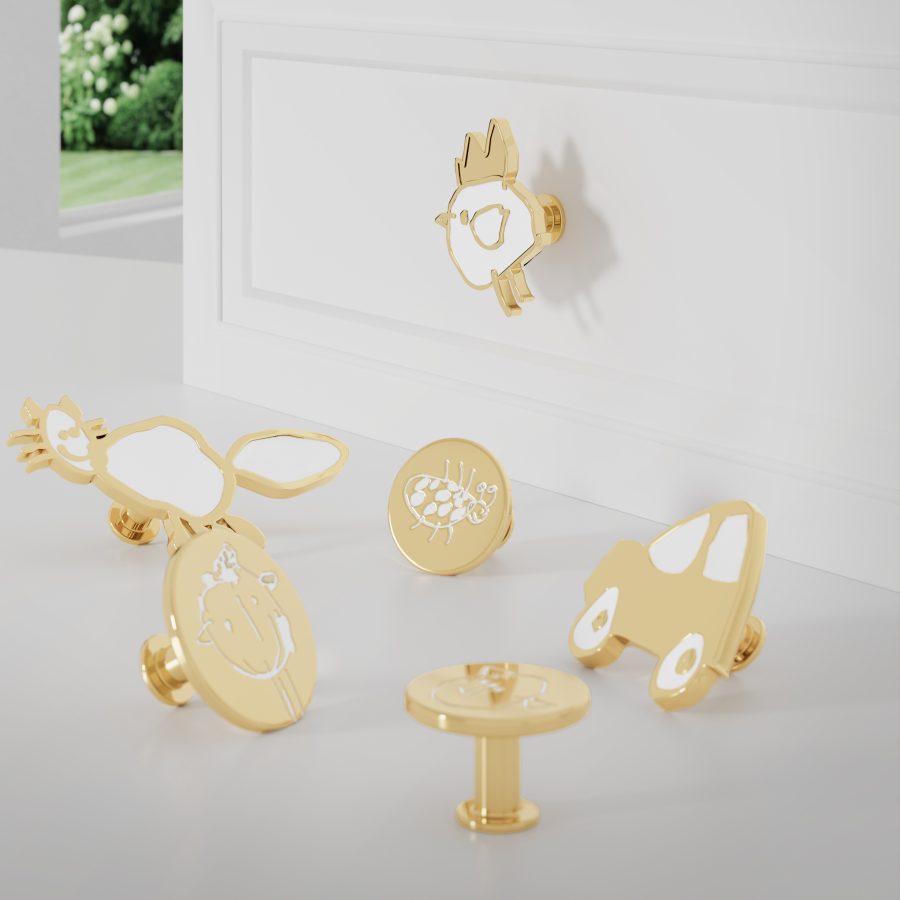 EMBRACE THE MAGIC WITH BESPOKE KIDS HARDWARE – The cat is finally out of the bag! Pun intended. Or shall we say the Chicken or the Car? All prototypes of the new Kids Bespoke Service that PullCast premiered at ISaloni, last Tuesday. Want to know more about this spell of magic that promises to encapsulate your little one's childhood in a long-lasting unique design object? Keep on reading!
---
Embrace the Magic with Kids Bespoke Hardware
A New Enchanted Concept of Design
Welcome to the magical world of PullCast! A fantastic kingdom only limited by imagination, where rooms are embellished with premium fairy-tale content, from fluffy clouds to adventurous friendly animals, not to mention golden tasty doughnuts! And now, with the addition of the brand new Kids Bespoke Service, this enchanted wonderland has just become even more extraordinary.
EDITOR'S CHOICE
Elephant Drawer Handle + Donut Drawer Handle
The Power of Creativity
What is exactly the Kids Bespoke Service? A unique, personal, and magical process through which kids' creations can be transformed into one-of-a-kind pieces of hardware. All you have to do is allow your little artist to create. PullCast will do the rest of the magic!
The 3D Enchantment
For the next step, you have to trust us with your kid's work of art. We promise it will be well taken care of! Through the wonders of technology, PullCast's design team will scan and transform your child's drawing into a 3D model. Using advanced software and some powerful enchantments, your infant's imaginative vision will be brought to life.
EDITOR'S CHOICE
Rocket Drawer Handle + Cloud Drawer Handle + Bunny Drawer Handle
Artisan Magicians
With technological innovation, expert craftsmanship, and, of course, a little magic dust, your special hardware piece is ready to ship. A one-of-a-kind object made with the contribution of the most special designer in the whole entire world: your kid!
---
ISaloni was the stage for this spectacular reveal. Will you like to see it first-hand and talk to PullCast's staff about it and embrace the magic? Find PullCast at Stand G-27, sharing the honors with partner brand LUXXU. Our Kids Collection experts will be expecting you at the CIRCU's exhibition, located at Pav 3 / Stand G24 – G28. Also, do not forget to pass by Pavilion 11, Stand E-231, where the Essential Home stand showcases mid-century-inspired furniture and some of PullCast's finest hardware. Book a visit! If you are unable to join us at the Milan Design Week, learn all bout the Kids Bespoke Service through our catalog or get in touch with our super available support team.
---
---
Are you ready to embrace the magic? We hope you share our excitement about the new Kids Bespoke Service. For more news about ISaloni and other content regarding luxury interior design keep on reading the PullCast Blog. Follow us on Facebook, Pinterest, and Instagram.