Indoor Pool Ideas To Upgrade Your Home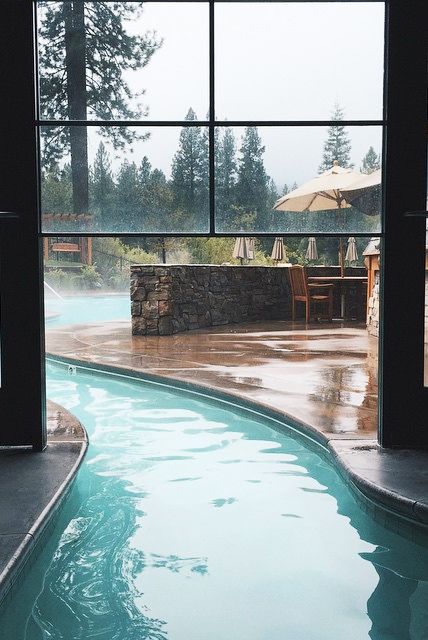 Indoor Pool Ideas To Upgrade Your Home ⇒  Indoor pools might seem like an unnecessary luxury to have in a home but they're in fact quite useful. Not only will it make it easier for you to keep your body in shape all year and enjoy swimming even in the coldest months of the year, but it can also create the perfect lavish setting for family time and entertaining. Take a look at our Indoor Pool Ideas and get ready to incorporate one in your own home!
Modern Simplicity
This modern indoor swimming space is perfect to relax and enjoy the water inside your own home. The large glass windows give the room the natural lighting it needs and the plants and decor create a well-put-together space in which guests can be entertained and have fun.
Rustic Vibes
This rustic-style pool area is reminiscent of a ski resort or spa hotel, which makes it all the more calming and serene. The small pool is great for houses with less space, and the waterfall coming through the wall creates a deeper connection of the room with nature.
Royal Treatment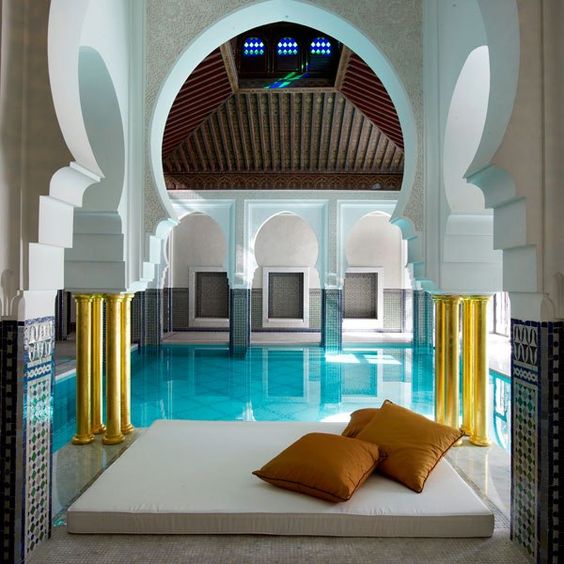 The Morrocan-inspired architectural aspects of this design, along with the golden columns and the futon as seating area create an ambience of royalty and orientality that is sure to surprise and enchant guests upon arrival.
Transition Pools
Transition Indoor Pool Ideas are the most enjoyable during summer, when you can enjoy swimming in the outside area but still use the indoor pool for privacy and whatnot. However, if your pool - both indoor and outdoor - is heated, it's simply amazing to feel the cool air while being kept warm by the water.
Decorate The Ceiling
If you think it's boring to swim inside while surrounded by walls and not nature, try and paint the area to make it more interesting. You can paint the ceiling with stars, like in the picture above, so that if you use the pool at night you can pretend you're looking at the sky. You can also install a TV or other appliances to create a fun environment.
Discover the exclusive and luxury world of PullCast and dive in our amazing and elegant list of decorative and architectural hardware products. They will help you elevate and transform your home decor or your design project into a unique experience! Follow us on Facebook, Pinterest, Twitter, Instagram, Linkedin, and Youtube!