Rooftop Design Ideas for Warm Summer Nights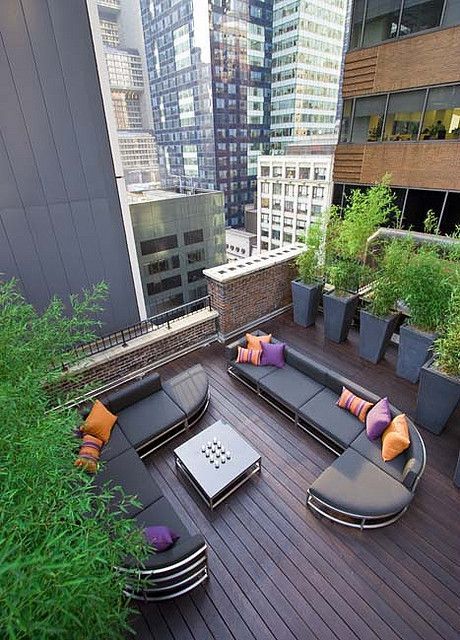 Rooftop Design Ideas for Warm Summer Nights ⇒  With summer in full swing, nothing feels better than inviting guests over to your rooftop to enjoy some good food and fresh drinks. Take these rooftop ideas as inspiration for your next summer gathering.
Create Separate Areas
If you have a big enough rooftop, its best to create different spaces for your guests to chat, eat and rest. For example, a specific dining area with an outdoor kitchen and table, then a larger, and sunken, seating area by an outdoor fireplace with several cushions so that guests can speak amongst themselves.
Choose The Best View
There's more than enough Rooftop Design Ideas catered to wonderful rooftops with amazing views surrounding them. However, most people live in cities full of skyscrapers and buildings, and if your rooftop isn't as big as them, you won't get a pretty view. In that case, it«s better to turn the guests away from the view and let them focus on the rooftop, by choosing visually interesting decor, a lot of plants and by turning the available seats inwards.
Rooftop Gazebos
Gazebos help protect outdoor furniture from rain, wind and other hazards while serving as a divider for your rooftop. They can have a more traditional design or a modern one, like the one on the picture, but all of them create a separate space for more intimate moments within the family and with guests.
Adapt To Smaller Spaces
Smaller patios and rooftops can't exactly fit a gazebo, dining and rest areas and decoration in the same place, so it's best to find Rooftop Design Ideas that are as practical as possible and create a multi-purpose area with a cosy and well-decorated design.
Rooftop Pools
Rooftop pools are able to give you a good amount of privacy, depending on how tall your building is, and can give you an amazing view of your city while swimming. They're also a fun activity to invite friends and family to.
Discover the exclusive and luxury world of PullCast and dive in our amazing and elegant list of decorative and architectural hardware products. They will help you elevate and transform your home decor or your design project into a unique experience! Follow us on Facebook, Pinterest, Twitter, Instagram, Linkedin, and Youtube!