Spark The Inspiration For Your New Interiors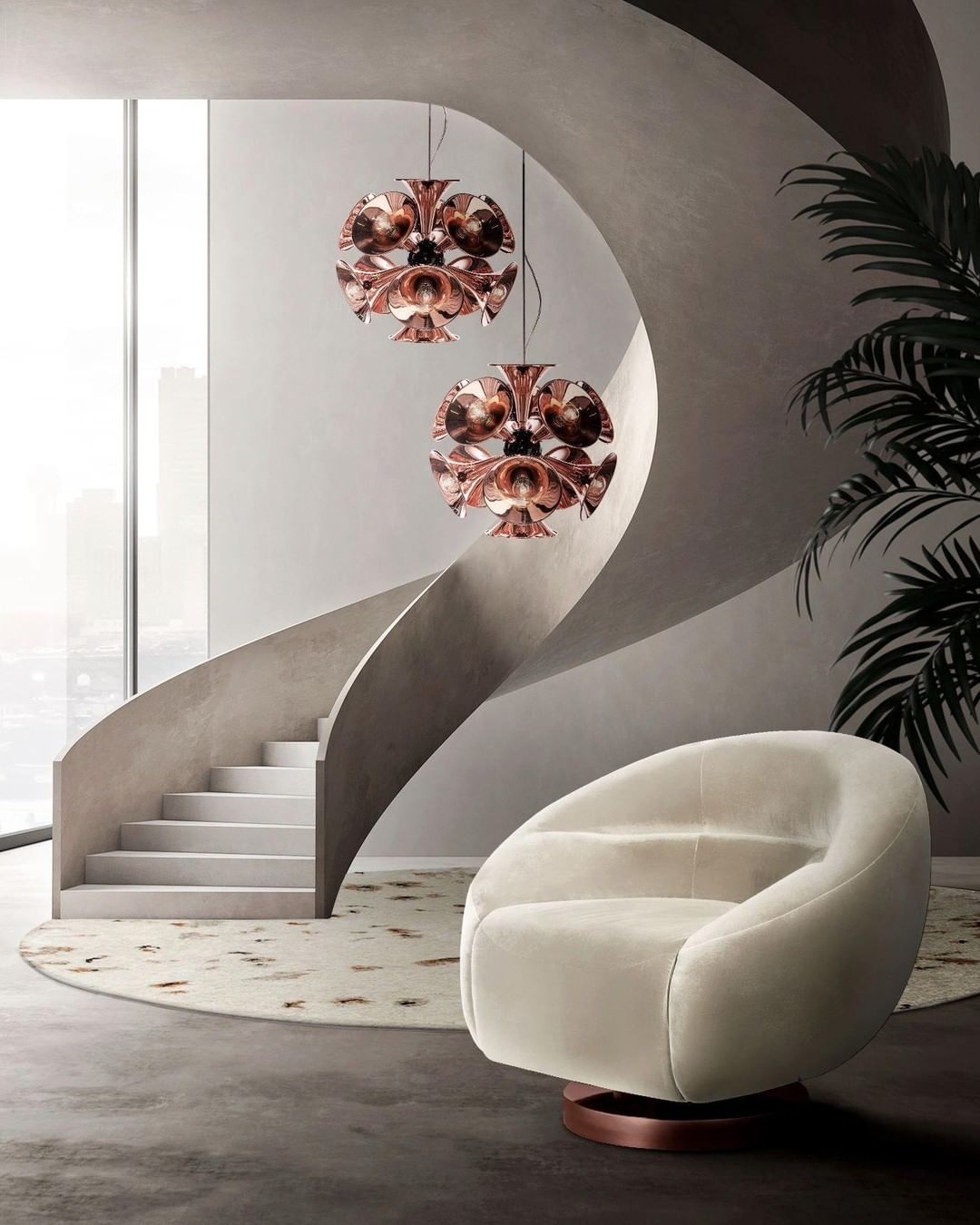 Spark The Inspiration For Your New Interiors ⇒  The most important component in creating a unique interior design with a noticeable master's touch is inspiration. PullCast Blog presents another magnificent collection of excellent ambiances in today's article, which may inspire you to create your own interior décor.
The NUI Stool, upholstered in cotton velvet with a brass structure, and the KUMI Rectangular Mirror, with a glossy hammered aged brass, create a simple and attractive corridor decor. This hallway is modern and clutter-free, resulting in a minimalist style without sacrificing elegance.
The rose gold pendant light adds warmth to this bland hallway with a velvet couch and round rug.
Spark the inspiration For Your New Interior Design Project
Hallway
A one-of-a-kind lamp that mixes a traditional style with a mid-century modern design to make a statement in your house.
The color combination of white, black, and yellow in this modern contemporary living room is stunning. The curved shape of the FITZROY Sofa, fully upholstered in white velvet, exudes comfort and elegance, while the LALLAN Round Centre Table's black structure provides the necessary contrast, and the DALYAN Armchair, totally upholstered in yellow, exudes warmth. Rug'Society's Valencia Rug is a stylish addition to any room.
A neutral living room set does not have to be boring; instead, we can make it smart and modern by mixing textures and shapes. The brushed aged brass matte of the velvet swivel armchair ESSEX complements the gold and white construction of the LATZA Centre Table.
»»»» Download Our Catalog And Discover Our Products ««««
A living room brimming with wonderful options and ideas that will wow you!
The spherical Golden Bugs Rug adds a touch of comfort and elegance to this lovely modern reading spot.
The Savana Rug, which matches the color of the velvet armchair, gives this bedroom design a powerful and warm feel.
With a black table light and a modern rug design, this is a modern mid-century hallway.
Spark the inspiration For Your New Interior Design Project
GET THE LOOK:
Spark 
One of our most classic design items is the Hudson Armchair. It has a somber appearance due to its unique design, but it really shines out due to its leather upholstery. It features a slight reclining angle, making it ideal for a peaceful moment in your living room.
The mid-century modern dining table was drawn from a combination of straight lines and circumferences, redefining the limits of physics and expanding the world's design horizon.
We need the bedroom to emit a calming aura because it is our personal unwinding zone. The WALES Bed is upholstered in grey, and the HUANG Bedside Table provides support for our bedtime reading, with the AURUM Wall Light offering just the right amount of shade to read before bed. Rug'Society's Agatha Rug, with its brown tones, unifies the space.
GET THE LOOK:
A velvet bed with brass legs, gold bras pendant lamps, and contemporary bedside tables complete this modern neutral bedroom design.
⇒ See Also: Admire Luxxu's Newest Deluxe Apartment in the Heart of Moscow⇐
Spark the inspiration For Your New Interior Design Project
This bathroom is a remarkable design that was made to fully encapsulate what a private retreat should be about: rest. It is luxuriously fantastic and incredibly distinctive.
Spark the inspiration For Your New Interior Design Project
GET THE LOOK:
Galliano has a basic design that can be used in every room of the house, regardless of the interior design style. Galliano, which is made of iron and has a matte black surface and a gold powder paint interior, creates a distinctive lighting effect when light is cast through its pipes.
Spark the inspiration For Your New Interior Design
Did you like our article Spark The Inspiration For Your New Interior Design Project? Let us know!
Spark the inspiration For Your New Interior
If you want to discover more about the exclusive and luxurious world of PullCast and our elegant collections of decorative hardware, then feel free to follow us on social media: Facebook, Pinterest, Twitter, Instagram, Linkedin, and Youtube