20 LUXURY HOTELS IN NEW YORK – AN OPULENT STAY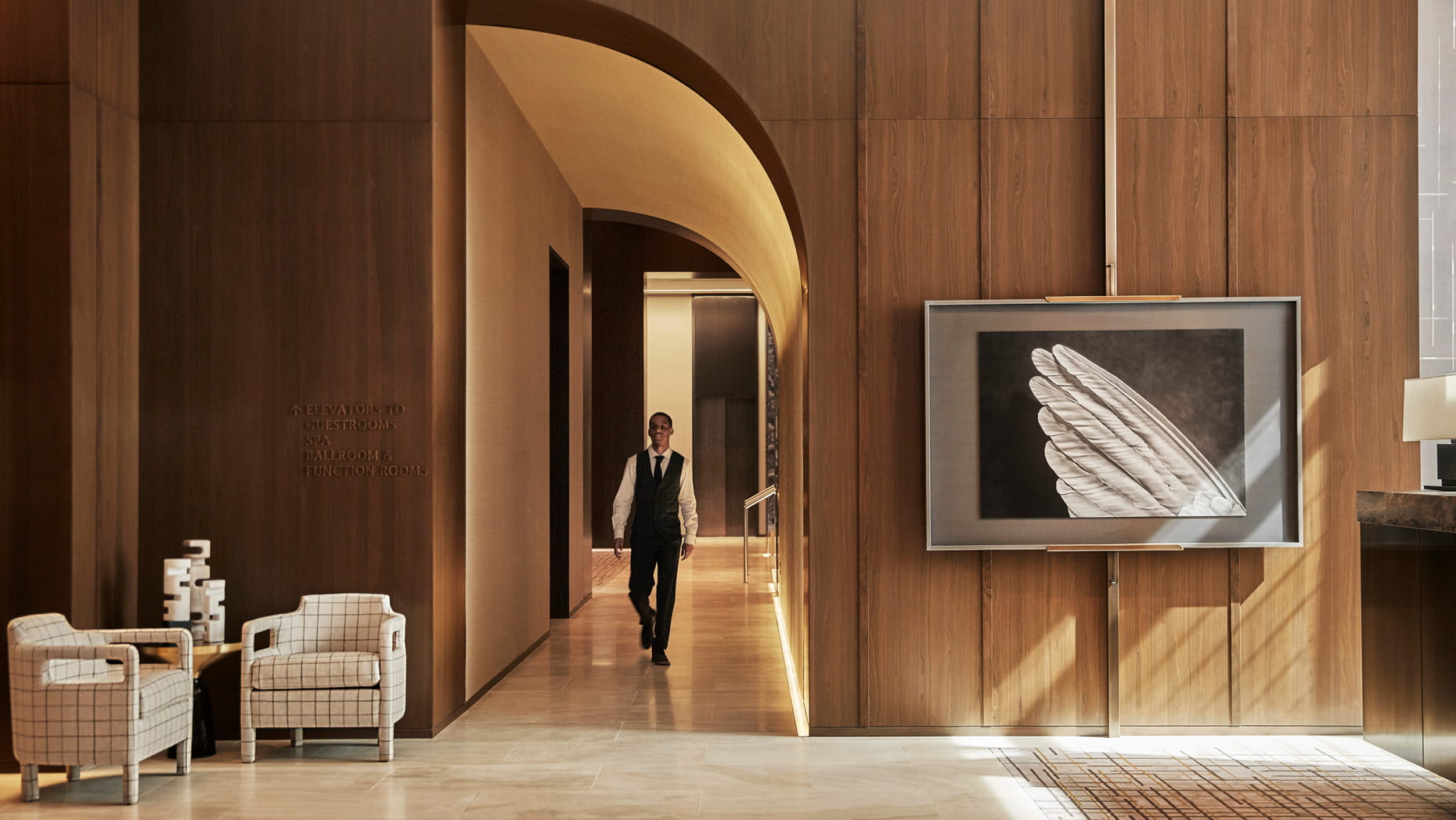 20 LUXURY HOTELS IN NEW YORK – AN OPULENT STAY IN THE CITY THAT NEVER SLEEPS – New York City, the epitome of opulence and grandeur, boasts a skyline that tells tales of luxury and sophistication. For those seeking an extraordinary stay in the city that never sleeps, we've curated a list of 20 luxury hotels that redefine the art of hospitality. From iconic establishments to modern marvels, these hotels, selected by the PullCast Blog, promise an unforgettable experience in the heart of the Big Apple.
---
SEE ALSO: Hardware Inspired By The Skyes Of Manhattan
---
20 LUXURY HOTELS IN NEW YORK
AN OPULENT STAY IN THE CITY THAT NEVER SLEEPS
1. Baccarat NYC
PHOTO: © Baccarat Hotel
The Baccarat Hotel and Residences, located in New York, showcases Baccarat crystals in every room, providing guests with a luxurious experience. Visitors can marvel at the intricate architecture and design while enjoying amenities such as an indoor pool, a fitness center, and an on-site French restaurant.
PHOTO: © Baccarat Hotel
Each hotel room features contemporary Parisian decor with a touch of regal ambiance that complements the city's vibrancy. The hotel's prime location places it 100 meters from the Museum of Modern Art, 200 meters from St. Patrick's Cathedral, and 200 meters from Radio City Music Hall. For an experience of total indulgence and relaxation, don't forget to treat yourself at the Spa de La Mer, conveniently located at the hotel.
PHOTO: © Baccarat Hotel | Spa de La Mer
2. 1 Hotel Brooklyn Bridge NYC
PHOTO: © 1 Hotel Brooklyn Bridge

Perched along the waterfront, the 10-story 1 Hotel Brooklyn Bridge beckons adventurers just 644 meters from the iconic Brooklyn Bridge promenade and 322 meters from the East River. The rooms at this eco-conscious oasis boast recyclable capsule coffee machines, mattresses filled with a blend of hemp, and organic cotton linens.
PHOTO: ©1 Hotel Brooklyn Bridge
But the 1 Hotel experience goes beyond the room – guests enjoy complimentary rides within a 4.8 km radius in an Audi E-Tron, available from 7 am to 9 pm daily, subject to availability. The property offers shared spaces for work or relaxation, a 24-hour Fieldhouse gym, a 50-person screening room, and a café with grab-and-go options, including a menu featuring local specialties. Your journey begins in sustainable luxury, and with LaGuardia Airport just 13 km away, the world is at your fingertips from the moment you step outside 1 Hotel Brooklyn Bridge. Ah, and did we mention you can bring your pets in?
3. 1 Hotel Central Park NYC
PHOTO: ©1 Hotel Brooklyn Central Park
Nestled in the heart of New York City, the 1 Hotel Central Park offers more than just a stay – it's an experience. Boasting a restaurant and a fitness center, this urban oasis ensures a seamless blend of luxury and comfort. Immerse yourself in air-conditioned rooms adorned with a cozy seating area, where private bathrooms pamper you with a shower, hairdryer, cotton slippers, and plush bathrobes. Thoughtful extras include a desk, a safe, a laptop safe, a yoga mat, and an espresso machine, ensuring that every detail is crafted to perfection.
PHOTO: ©1 Hotel Brooklyn Central Park
The 1 Hotel Central Park goes beyond the ordinary. The on-site restaurant, Jams, stands out with its open kitchen concept, exposed brick, and reclaimed oak ambiance, serving breakfast, lunch, and dinner, along with a delightful brunch on Saturdays and Sundays. Positioned just 300 meters from Carnegie Hall, 500 meters from the Museum of Modern Art, and a mere 600 meters from the iconic Central Park, this hotel is a haven for both leisure and business travelers.
4. The Carlyle Hotel
PHOTO: © Carlyle Hotel
Step into a world of timeless elegance at The Carlyle, a luxury hotel in the heart of New York City, where the spirit of sophistication meets unparalleled service. The Carlyle has become synonymous with the iconic Bemelmans Bar, a cherished gem within its storied walls. Named after the renowned artist Ludwig Bemelmans, it is a masterpiece in itself, adorned with his whimsical murals that transport you to a bygone era of charm and charisma. It's the perfect setting to savor classic cocktails and immerse yourself in the jazz melodies that echo through the intimate space.
PHOTOS: © Carlyle Hotel
Embark on a culinary journey into a new era as Dowling's at The Carlyle takes center stage. Crafted by the renowned New York-based Tonychi Studio, this chic and intimate dining space promises to transport you back to the glamour and charm of the 1930s and 40s. Immerse yourself in an ambiance adorned with over 200 carefully curated pieces of artwork, a curated collection ranging from contemporary pieces by local New York artists to historical gems sourced from the hotel's archives.
5. The Ritz-Carlton New York, NoMad
PHOTO: © Ritz-Carlton
Situated in the trendy NoMad neighborhood, The Ritz-Carlton New York, NoMad exudes modern luxury. With its sleek design and unparalleled service, it's a destination for those who appreciate contemporary elegance.
PHOTO: © Ritz-Carlton
Elevating the dining experience to new heights, Nubeluz by José Andrés is a celestial haven in the sky, seamlessly blending the Spanish words for cloud ("nube") and light ("luz"). Within this ethereal setting, inside the Ritz-Carlton, Nubeluz presents contemporary twists on classic cocktails and delectable small bites, all complemented by breathtaking 270-degree views of the iconic New York City skyline.
6. The Chelsea Hotel
PHOTO: © The Chelsea Hotel
Among our list of 20 luxury hotels in New York lies a historic gem. The Chelsea Hotel has been a haven for artists, musicians, and creatives for decades. It is pure New Yorker iconography and has served as a muse for a multitude of creatives, from novelists to songwriters. With its bohemian charm, artistic legacy and bespoke details, this hotel is a living piece of New York's cultural history.
PHOTO: © The Chelsea Hotel
---
SEE ALSO: Bedroom Inspiration – A Journey Through Style and Serenity
---
7. Equinox Hotel Hudson Yards
PHOTO: © Equinox Hotel
Seamlessly integrating fitness and hospitality, this urban retreat offers a distinctive experience tailored for the health-conscious traveler. With its sleek and contemporary design, the Equinox Hotel provides a serene oasis amidst the vibrant cityscape. Guests can immerse themselves in state-of-the-art fitness facilities, rejuvenating spa treatments, and meticulously curated dining options that prioritize nourishment and well-being. Each visit to the Equinox Hotel is a harmonious blend of indulgence and vitality, promising a stay that revitalizes both body and spirit in the midst of the bustling energy of Manhattan.
8. Aman New York Hotel
PHOTO: © Aman New York
In a fusion of East and West, tradition meets modernity within the reimagined confines of Manhattan's renowned Crown Building, now transformed into Aman New York. This iconic space marries the city's original architectural grandeur with Aman's signature harmonious design ethos, resulting in the seamless integration of Aman's unmistakable tranquility into the heart of Manhattan's bustling midtown.
9. Four Seasons New York Downtown
PHOTO: © Four Seasons Hotel New York Downtown
As a distinguished architectural landmark nestled in the heart of Lower Manhattan, the Four Seasons Hotel New York Downtown epitomizes diversity, inspiration, and vibrancy. The convergence of art and architecture is a defining feature, as the hotel is strategically located just steps away from the city's most authentic neighborhoods. Immerse yourself in a novel urban chic experience, whether you opt to revitalize at the hotel spa or indulge in the culinary delights of CUT by the renowned celebrity chef Wolfgang Puck.
10. Hotel Barrière Fouquet's New York,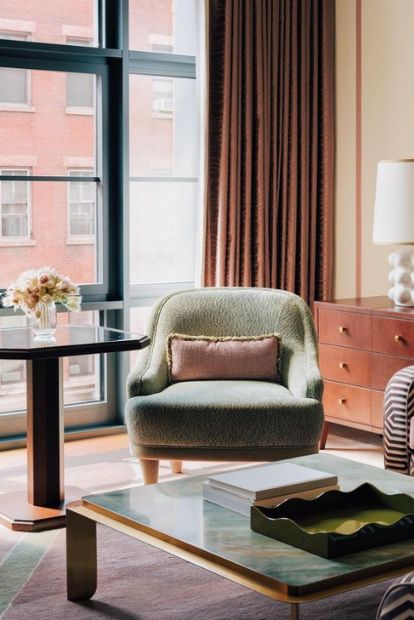 PHOTOS: © Hôtel Barrière Fouquet
Elegance meets the energy of New York at Hôtel Barrière Fouquet, a chic sanctuary in the heart of a neighborhood that epitomizes the city's distinctive style. This pied-à-terre introduces the warmth of family-run hospitality and the generous spirit found in the renowned Champs-Élysées hotel to the charming cobblestone streets of Tribeca. Step beyond the glass-and-brick façade to uncover a timeless brasserie, a sophisticated bar, a serene spa, a glamorous cinema, and impeccably designed residential-style rooms and suites by Martin Brudnizki, all infused with unmistakable French panache.
---
NEW YORK INSPIRED HARDWARE
Skyline Marble Door Pull + Skyline Door Pull
---
11. Nine Orchard Hotel NYC
PHOTO: © Nine Orchard
Situated within a historic Lower East Side landmark, Nine Orchard stands as a meticulous restoration and reimagination of the century-old Jarmulowsky Bank, now transformed into an exquisite hotel and culinary haven. Each room is a testament to the building's rich history, adorned with original Neo-Renaissance details and innovative craftsmanship, providing guests with a home-away-from-home experience in the vibrant heart of downtown New York.
12. The Olivia Apartments
PHOTO: © The Olivia
Discover a novel approach to urban living at The Olivia, an exquisite residential haven nestled in Manhattan West. This distinctive destination boasts interiors designed to cultivate a sense of tranquility, harmoniously juxtaposed with vibrant energy and unparalleled connectivity just beyond its doors. The Olivia invites you to unwind, relishing the spacious comfort of your apartment while offering opportunities for engaging social experiences.
---

SEE ALSO: It's Time to Embrace the Cosmopolitan Chic!
---
13. The Bowery Hotel
PHOTO: © The Bowery Hotel

Featuring an atrium bar, the Bowery Hotel is situated at the crossroads of the Lower East Side and East Village, just 450 meters from the New Museum. Each room in this boutique hotel boasts floor-to-ceiling windows offering city views. The industrial design seamlessly blends with loft-style residential amenities, including hardwood floors, distinctive Oushak carpets, and 400-thread-count bedding. Marble bathrooms in each room are equipped with rainfall showers, plush towels, and luxurious C.O. Bigelow toiletries.
14. PUBLIC Hotel New York
PHOTO: © PUBLIC Hotel New York
Uncover a fusion of luxury and style at PUBLIC, the exquisite creation of Ian Schrager, situated in the vibrant heart of New York City. Exuding a chic and sophisticated ambiance, the PUBLIC delivers a distinctive experience. True to its name, the public spaces within the hotel play a pivotal role, offering a dynamic and inviting atmosphere. Public Hotel prides itself on delivering exceptional value—a reasonable cost for exceptionally stylish rooms and an expansive lobby lounge that seamlessly transforms into a vibrant social hub.
15. The Mark Hotel
PHOTO: © The Mark Hotel
The Mark Hotel seamlessly merges the opulence of timeless comfort, cutting-edge design, state-of-the-art technologies, and an unparalleled commitment to personal service, establishing itself as the premier five-star hotel of the 21st century. Located on the Upper East Side, it has become a favorite among celebrities and discerning travelers alike.
16. The Peninsula New York
PHOTO: © The Peninsula New York
Experience the quintessential Manhattan lifestyle at the prime address on Fifth Avenue. Nestled ideally at the intersection of Fifth Avenue and 55th Street in Midtown Manhattan, The Peninsula New York places you at the epicenter of the city's most esteemed shopping, entertainment, and cultural district. Within a leisurely stroll, discover iconic landmarks such as Central Park, Rockefeller Center, and the renowned Fifth Avenue shopping.
17. SIXTY SoHo Hotel
PHOTO: © SIXTY SoHo
Immerse yourself in the artistic allure of SIXTY SoHo, an inspiring haven that marks the perfect embarkation point for your exploration. Unwind in one of the hotel's 97 chic guest rooms and suites, each adorned with distinctive finishing touches and graced with exceptional artwork by the renowned Harland Miller. The enchantment of SIXTY SoHo has captivated our senses, embracing the glamour and sophistication that define this uniquely stylish neighborhood, and that is why it is featured among the 20 luxury hotels in New York.
18. Mandarin Oriental New York
PHOTO: © Mandarin Oriental
Experience a captivating blend of contemporary design and stylish oriental influences at Mandarin Oriental, New York, where elegant guestrooms and suites showcase stunning views of Manhattan along with unparalleled Five-Star hospitality. Indulge in luxurious amenities with panoramic vistas of Central Park and the Manhattan skyline. Situated within Columbus Circle's Deutsche Bank Center, Mandarin Oriental, New York enjoys an ideal setting, mere steps away from world-class dining, shopping, and entertainment.
---
SEE ALSO: Interior Design With a Twist – The Classics and The New Releases
---
19. The Fifth Avenue Hotel
PHOTO: © The Fifth Avenue Hotel
In a meticulous and eclectic design, The Fifth Avenue Hotel unfolds a realm of imagination to captivate the senses within the vibrant heart of Manhattan. Reviving a Gilded Age landmark into a luxury haven, The Fifth provides thoughtful service paired with the highest level of comfort and care, featuring exceptional cuisine curated by Chef Andrew Carmellini. Step into a world of intimate ambiance, elegance, and charm as you experience the distinctive allure of this reimagined destination.
20. Virgin Hotels New York
PHOTO: © Virgin Hotels New York
Right in the pulsating heart of Manhattan, Virgin Hotels New York stands as the ideal hub for immersing yourself in the sights, sounds, and flavors of one of the world's most iconic cities. Take the plunge, unload your bags, and relish the vibrant energy of the Big Apple. Awaken to a refreshed state in our distinctive chambers and suites, where ultra-comfy beds, delightful surprises, and privacy partitions empower you to tailor your experience—whether it's for work, play, or a rejuvenating snooze.
---
NEW YORK INSPIRED HARDWARE
Skyline Drawer Handle + Skyline Cabinet Handle
---
Experience New Yorker's Finest: A Culinary Journey
While indulging in the luxury of these hotels, immerse yourself in the culinary and wellness offerings that make New York City truly extraordinary.
PHOTO: © Ilili Restaurant
Ilili Restaurant NYC:

 

Embark on a culinary journey at Ilili Restaurant, a Lebanese-Mediterranean gem offering a blend of flavors that captivate the palate.
Mesiba NYC Restaurant:

 

Immerse yourself in the rich flavors of Mesiba, an Israeli-inspired restaurant where tradition meets innovation in every dish.
Lysée in Flatiron District:

 

Indulge in Michelin-starred pastries at Lysée, located in the iconic Flatiron Building, where each bite is a work of art.
PHOTOS: © Mesiba | Lysée
---
In the city that never sleeps, these indulgent experiences and 20 luxury hotels in New York add the perfect touch to your stay, creating memories that go beyond the confines of your hotel room. Whether you're exploring the vibrant culinary scene or pampering yourself in world-class spas, the Big Apple offers a multitude of delights for the discerning traveler. Let the city's finest hotels and experiences weave a tapestry of luxury that will linger in your memories long after you've left the bustling streets of Manhattan.
---
NEW YORK INSPIRED HARDWARE
Skyline Door Lever + Skyline Marble Door Lever
---
The PullCast Blog vows for every single one of the aformentioned 20 luxury hotels in New York and wishes you a wonderful stay. Subscribe to our newsletter and follow us on Facebook, Pinterest, and Instagram and we'll keep you updated on the best travel destinations and hospitality locations.