48 LUXURY BEDROOMS: REST, RELAX AND INDULGE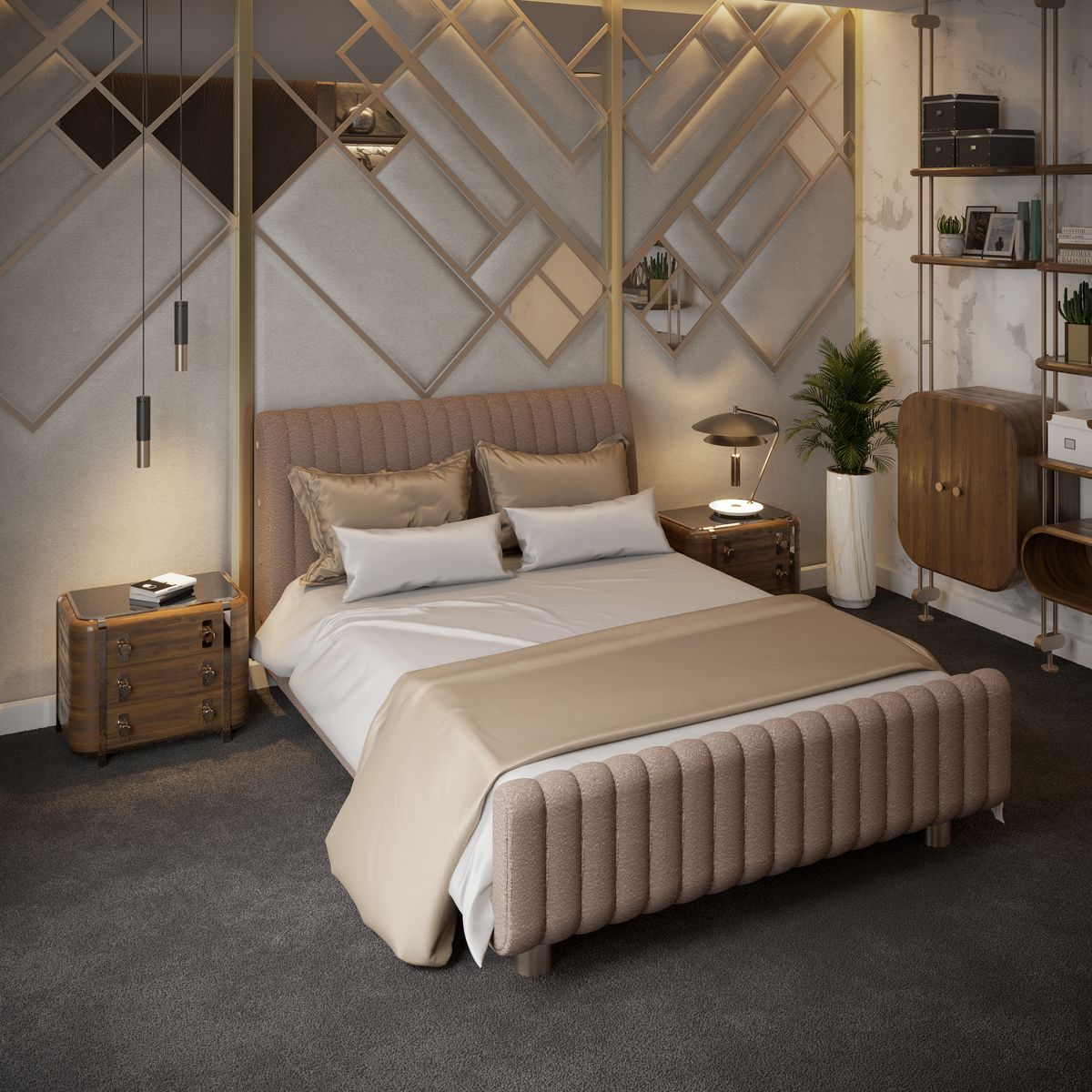 48 LUXURY BEDROOMS: REST, RELAX AND INDULGE – Your bedroom serves as a sanctuary, offering solace from the pressures of daily life and allowing you to relax fully. If you aspire to elevate your bedroom into an opulent retreat, you've come to the perfect source. In this article, the PullCast Blog will present you with 48 luxury bedroom decor, designed to transform your sleeping area into a haven of extravagance and refined elegance.
---
---
48 LUXURY BEDROOMS
REST, RELAX AND INDULGE
1. Plush Cozyness
Begin by focusing on the cornerstone of your bedroom: the bed. Consider investing in sumptuous bedding made from top-tier materials such as Egyptian cotton or silk sheets to match your plush bed. Aim for a generous thread count to achieve a level of comfort akin to resting on a cloud.
2. A Fancy Ottoman
Integrating a fancy ottoman into your bedroom interior design brings both style and functionality to the forefront. Not only does it enhance the overall aesthetic, adding a touch of sophistication and luxury, but it also serves a practical purpose. A luxury ottoman can function as a versatile piece, providing a comfortable seat for putting on shoes, a convenient surface for placing books or drinks, or even a spot to rest your legs after a long day.
3.
Statement Headboard
Elevate your bed's aesthetic by incorporating a standout headboard. Consider selecting one crafted from opulent materials such as leather or velvet, providing a luxurious touch. Alternatively, opt for a bold, oversized wooden headboard to make a grand and eye-catching statement in your bedroom design.
4. Floor-To-Ceiling Headboard
Considering a floor-to-ceiling headboard for your bedroom interior design can redefine the ambiance of your space. This grand design element not only adds height and visual interest to the room but also creates a focal point that exudes opulence and sophistication. It establishes a sense of lavishness and luxury, making a bold statement and transforming your bed into the centerpiece of the room.
5.
Elegant Chandeliers
Incorporating a crystal chandelier or one adorned with crystals can promptly enhance the atmosphere of your bedroom, establishing a mesmerizing centerpiece that captivates attention.
---
BEDROOM HARDWARE MUSTS
Altas Drawer Handle + Monocles Drawer Handle
---
6. Blend-In Lighting
Considering blend-in lighting designs for a luxury bedroom interior is a savvy choice. These designs seamlessly integrate into the overall decor, enhancing the room's opulence without overpowering the aesthetic. With carefully placed lighting that harmonizes with the design elements, you achieve a balanced and elegant ambiance. The subtle illumination accentuates the luxurious textures, colors, and architectural features, allowing the room to radiate a refined and inviting atmosphere.
7. Luxury Bedside Tables

Consider incorporating marble-topped or mirrored bedside tables to infuse a sense of elegance into your bedroom. These options not only boast a stunning appearance but also offer practical storage solutions, marrying beauty with functionality seamlessly.
8. Geometric Luxury Pulls
When aiming for a luxury interior design, considering sleek geometric pulls like the Baruka collection by PullCast for bedroom closets is a brilliant choice. Inspired by the Japanese aesthetic, the Baruka pulls introduce an element of refined sophistication and modernity to your closet doors. The sleek geometric design not only exudes elegance but also complements the overall contemporary and minimalist theme often found in luxury interiors.
09. Custom Carpets
Have you ever considered investing in a tailor-made, luxuriously plush carpet that harmonizes with the color palette of your bedroom? A carpet with a soft, comforting texture underfoot is crucial for creating an atmosphere of pure luxury.
---
SEE ALSO: How to Harmonize Color in Interior Design – Creating Moods With Hardware
---
10. Wood Accent Sophistication
Opting for wood accents for luxury bedroom interior design is a discerning choice. Wood brings a natural and timeless elegance, adding warmth and richness to the overall aesthetic. The organic texture and hues of wood complement various design styles, from classic to contemporary, making it a versatile element. Incorporating wood accents in furnishings, flooring, or decor pieces enhances the opulence of the space, infusing a sense of sophistication and connecting with nature.
11. Sitting Area

Create a snug seating nook within your bedroom by arranging plush chairs, a chic coffee table, and tasteful lighting to craft a serene and intimate ambiance.
13. Elegant Bookcases
An elegant bookcase is a mark of refined taste. A well-designed bookcase not only adds a sophisticated aesthetic to the bedroom but also showcases your literary collection or curated decor pieces in a stylish manner. It brings an element of opulence and intellectuality to the space, demonstrating a love for knowledge and design.
14. It's All About Bed Linens
Opt for top-tier bed linens adorned with detailed embroidery, monograms, or delicate lace to infuse a personalized touch of luxury.
15. Designer Lighting Fixtures
Integrate designer lighting fixtures that harmonize with your bedroom's style, whether it's a contemporary crystal pendant or a traditional table lamp featuring a silk shade.
---
BEDROOM HARDWARE MUSTS
Acorn Drawer Handle + Bunny Drawer Handle
---
16. The Touch Of Velvet
Velvet upholstery is a testament to embracing opulence and sophistication. Velvet accents not only exude a plush and luxurious ambiance but also impeccably complement the intricate hardware details present in the design. The juxtaposition of soft, smooth velvet against the fine craftsmanship of handles like the featured Kesya handles by PullCast elevates the overall aesthetic.
17. Mirrored Doors With Class
Deliberating mirrored doors in luxury bedroom interior design is a prudent choice. Mirrored doors impart a sense of glamour and timeless elegance, serving to visually expand the space while adding a touch of sophistication. Their reflective surfaces play with light, enhancing the overall luminosity of the room and creating an illusion of spaciousness. Additionally, mirrored doors seamlessly blend with various design themes, complementing the opulence of luxury interiors and contributing to a cohesive and tastefully designed bedroom ambiance.
18. There's Not Such A Thing As Too Many Pillows
The art of layering pillows allows for a sumptuous, well-appointed bed that exudes comfort and opulence. It adds a depth of texture and color to the room, accentuating the richness of the overall decor. Additionally, this practice offers a personalized touch to the sleeping space, inviting a sense of indulgence and coziness. The combination of different pillow sizes, materials, and designs enhances the visual appeal and serves as a signature of meticulous attention to detail.
19. Luxury Bedside Lamps
Opt for designer bedside lamps that align seamlessly with the overall theme of your bedroom. Deliberate on materials such as crystal, glass, or metallic finishes for a cohesive look. Notice how the lamp impeccably complements the nightstand, adorned with exquisite mid-century-inspired handles designed by PullCast.
20. Sleek Table Lamps
Contemplating sleek table lamps in luxury bedroom interior design is a choice driven by sophistication and aesthetics. Sleek table lamps offer a modern and refined touch to the decor, effortlessly blending with the upscale ambiance of a luxury bedroom. Their streamlined design and minimalist appeal bring a sense of contemporary elegance, allowing them to complement various styles while maintaining a sleek and unobtrusive presence.
---

SEE ALSO: SEE ALSO: Discover Premium Door Pulls On Sale
---
21. Gold Accents
Integrate gold accents, including high-quality hardware like drawer pulls and picture frames, throughout your bedroom to infuse an element of opulence.
22. Dashing Wallpaper
Wallpaper allows for an extensive array of designs, textures, and patterns, enabling you to curate a personalized atmosphere that aligns with your style. Whether opting for bold, statement wallpaper or a subtle, textured one, it adds depth and dimension to the walls, transforming them into an artistic canvas.
23. Soothing Color Palette
Choose calming, neutral color schemes accented with vibrant hues such as deep blues, emerald greens, or regal purples.
24. Oversized

 

Kids Items
Oversized furniture offers a playful and visually engaging aspect to the room, capturing a child's imagination and creating an exciting atmosphere. Beyond their aesthetic appeal, these larger-than-life furnishings provide ample space for kids to comfortably play, lounge, and engage in various activities. The scale of oversized pieces makes a statement, fostering a sense of uniqueness and individuality in the room.
25. Statement Rugs

Opt for sizable, ornately designed rugs that serve as a focal point in your bedroom's decor while providing a cozy and warm feel underfoot.
---
BEDROOM HARDWARE MUSTS
Big Bear Drawer Handle + Belize Cabinet Handle
---
26. Monochromatic Color Scheme
Embrace a monochromatic color palette featuring shades of white, cream, or gray to achieve a timeless and sophisticated aesthetic, and highlight it with subtle and sophisticated hardware designs.
27. Mirrors Everywhere

Deliberating the use of mirrors in luxury bedroom interior design is a strategic choice. Mirrors have an exceptional ability to amplify light and space, making the room feel more expansive and luminous. They seamlessly blend with opulent aesthetics, reflecting elegance and adding a touch of glamour to the overall ambiance. Additionally, strategically placed mirrors can highlight other luxury elements within the room, such as chandeliers, fine furniture, or luxurious handles, further enhancing the grandeur.
28. Bespoke Kids Designs
Consider investing in tailor-made bedroom furniture and accessories that precisely match your space and design aspirations. Are you familiar with the PullCast Kids Bespoke concept? Kids' drawings are brought to life in the shape of exquisite hardware pieces to adorn their magic worlds.
29. Layered Bedding
Strategically layer various textures and materials in your bedding to achieve a sumptuous and inviting appearance.
30. High-Quality Mattress
A superior mattress not only elevates comfort but also embodies a key aspect of opulence and well-being. The right mattress provides a foundation of restorative sleep, contributing to overall health and vitality. In a luxury bedroom, where relaxation and rejuvenation are paramount, investing in a high-quality mattress ensures a lavish and indulgent sleep experience.
---
---
31. The Moss Green Appeal
The moss green palette exudes tranquility and sophistication, reminiscent of lush forests and serene landscapes. This color effortlessly blends into luxury interiors, offering a calming and grounding effect, conducive to relaxation and rejuvenation. The deep, rich tones of moss green evoke a sense of luxury and refinement, acting as an excellent backdrop for lavish furnishings and elegant decor.
32. Bedroom Plants
Plants bring a natural element into the room, creating a serene and refreshing ambiance. They not only enhance the aesthetic appeal with their lush greenery but also improve air quality, promoting a healthier indoor environment. In luxury design, indoor plants add a touch of opulence and sophistication, juxtaposing nature's simplicity with the elegance of the decor.
33. A Mid-Century Dream
The mid-century design era, characterized by clean lines, organic forms, and a timeless aesthetic, introduces a sense of elegance and simplicity to a luxurious bedroom. These elements often feature exquisite craftsmanship and premium materials, enhancing the overall opulence of the space.
34. Black Opulence 
Black adds a striking contrast and depth to the color palette, creating a captivating visual impact. It exudes a sense of opulence and elegance, especially when paired with other luxurious hues and textures.
35. A Monochromatic Sleek Ambiance
Embracing a monochromatic aesthetic in the bedroom offers an elegant and harmonious appeal. This design approach involves using varying tones and shades of a single color, creating a cohesive and sophisticated look.
---
BEDROOM HARDWARE MUSTS
Caviar Drawer Handle + Clash Door Lever
---
36. In Touch With Nature
Integrating plants brings a touch of nature's tranquility and vitality into the room, creating a sense of serenity and freshness. The presence of greenery can complement the lavishness of a luxury interior, adding an organic contrast and a vibrant, dynamic energy. Additionally, incorporating natural materials like wood, stone, or leather imparts a sense of authenticity and timelessness, enhancing the overall opulence of the space.
37. Contrasting Woods
Incorporating contrasting woods in bedroom luxury interior design is a sophisticated choice that adds depth and visual intrigue to the space. Mixing different wood tones and grains, such as pairing dark mahogany with light oak or rich walnut with pale ash, creates a striking juxtaposition that highlights the inherent beauty of each wood type.
38. White Marble Elegance
White marble holds a distinguished place in bedroom luxury interior design, offering an exquisite and timeless aesthetic. Its pristine white hue exudes elegance and sophistication, seamlessly complementing a lavish ambiance. The natural veining and patterns in white marble, particularly Carrara or Estremoz varieties, add a touch of artistic flair, enhancing the overall opulence of the space. PullCast's hardware designs incorporating these marbles exemplify a fusion of functionality and beauty, showcasing the delicate balance between luxury and craftsmanship.
39. A Hospitality Dream
Hospitality amenities encapsulate a curated experience, akin to a high-end hotel stay, right within the confines of your home. Plush bathrobes, a selection of premium toiletries, a well-stocked mini-bar, and an elegantly designed coffee station are just a few examples. Each amenity is carefully chosen to elevate the overall ambiance and pamper the occupants, enhancing their sense of indulgence and relaxation. The goal is to ensure that every moment spent in the luxurious bedroom feels like a retreat, offering a lavish escape from the ordinary.
40. Give It All For The Boho-Chic
Embracing boho-chic elements in bedroom luxury interior design introduces an eclectic and free-spirited vibe to the space. This design style combines a mix of vibrant colors, diverse patterns, and a range of textures, creating a harmonious yet visually intriguing ambiance. Incorporating luxurious fabrics like silk or velvet in boho-chic colors adds an opulent touch, while natural elements such as wooden accents or plants provide a sense of warmth and balance.
---
SEE ALSO: How to Transform Your Bathroom Into a Spa-Like Retreat
---
41. More Is More
The principle of "more is more" embodies opulence and extravagance in bedroom luxury interior design. Embracing this concept allows for a mix-and-match approach, where layers of rich textures, intricate patterns, and a profusion of elegant elements come together to create a visually stunning and sumptuous space.
42. A Private Arabian Retreat
Elaborate geometric patterns and plush furnishings reminiscent of Arabian palaces and riads can instantly transform a bedroom into a lavish oasis. The use of white and golden tones infuses an ambiance of regal elegance. Arabian-inspired lighting fixtures, ornamental accents, and intricately designed carpets further elevate the space, inviting one to experience the grandeur and allure of a luxurious Arabian retreat within the comforts of their own home.
43. Sophisticated Metallic Accents
Metallic accents play a pivotal role in elevating bedroom luxury interior design. These gilded embellishments introduce a sense of glamour and opulence, catching and reflecting light to create a mesmerizing effect. Whether it's shimmering gold, sleek silver, or brushed bronze, metallic elements infuse a contemporary yet timeless allure to the space. From accent pieces like lamps and mirrors to hardware on furniture, they add a touch of sophistication and refinement.
44. Walk-In Closets
Walk-in closets in bedroom luxury interior design epitomize opulence and functionality. These spacious, personalized sanctuaries offer a haven for your wardrobe and accessories, meticulously designed to accommodate your collection with elegance.
45. Patterns and Textures Overload
Combining various patterns, such as stripes, florals, or geometric prints, along with textures like silk, velvet, or fur, adds depth and visual interest to the space. This dynamic blend creates an opulent and visually engaging environment, allowing for a unique interplay of elements that evoke a sense of lavishness.
---
BEDROOM HARDWARE MUSTS
Baruka Drawer Handle + Brubeck Drawer Handle
---
46. That Rustic Vibe
Rich, distressed wood textures in furniture and decor add character and a sense of history, imparting a feeling of authenticity and luxury. Paired with carefully selected luxurious fabrics, plush bedding, and elegant lighting fixtures, the rustic elements take on a new level of sophistication. It's the perfect blend of rugged elegance that evokes a cozy and upscale retreat, reflecting a harmonious balance between nature-inspired aesthetics and refined opulence.
47. The Palatial Trend
The palatial trend epitomizes opulence and grandeur. Inspired by the lavish aesthetics of palaces and regal residences, this design approach embraces sparkling embellishments, rich color palettes, and intricate detailing.
48. Organic Elements Set The Tone
Incorporating organic elements like natural wood finishes, botanical prints, or organic textures into the decor brings a sense of serenity and harmony. Whether it's the soothing hues of greens and blues reminiscent of lush landscapes or the tactile feel of natural fabrics, these touches connect the space with the beauty of the outdoors. PullCast's Earth and Ocean collections are a tribute to organic elements, in shape, texture and concept.
---

In conclusion, elevating your bedroom to a realm of opulence and sophistication is within reach with these 48 luxury bedrooms. From sumptuous bedding choices and sleek lighting fixtures to tailored furniture and nature-inspired elements, each concept is designed to transform your personal space into a sanctuary of lavish comfort and style. By integrating these creative ideas, you can craft a bedroom that not only reflects your exquisite taste but also provides a tranquil retreat, promising an elevated lifestyle and a touch of timeless elegance every time you enter this luxurious haven.
---
---
We are absolutely sure you have found inspiration among these 48 luxury bedrooms. Don't forget to subscribe to our newsletter and follow PullCast on Facebook, Pinterest, and Instagram.