A JOURNEY THROUGH TIME INTO KITCHEN DESIGN TRENDS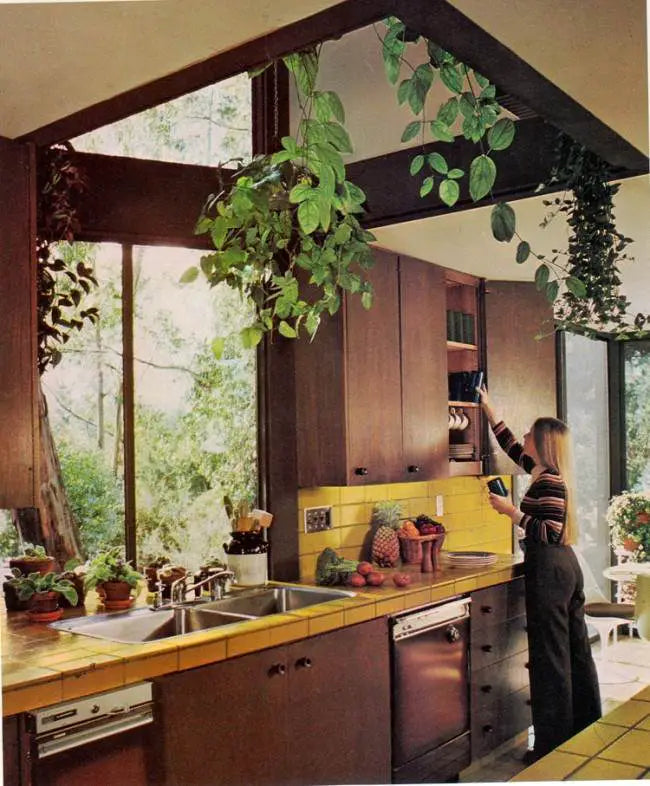 A JOURNEY THROUGH TIME INTO KITCHEN DESIGN TRENDS – The kitchen has long been the heart of the home, reflecting the shifting attitudes and design trends of each era. From the sleek and restrained styles of the Art Deco period to the over-the-top kitsch of the 1970s, kitchens have evolved as a physical representation of our cultural and design preferences. Come aboard PullCast Blog's captivating journey through the decades, exploring the fascinating hardware design trends that have shaped our domestic kitchens.
---
SEE ALSO: Trendy Decor Ideas To Transform Your Kitchen
---
A Journey Through Time Into Kitchen Design Trends
Time-traveling With The PullCast Blog
1920s–1930s: Art Deco Havens
PHOTO: Ladies Home Journal
The 1920s and 1930s embraced a more sober and clean approach to kitchen design as the world began to move away from ornamental forms from the Victorian and Edwardian eras. Art Deco, which featured geometric designs and simple lines, gained popularity. Art Deco patterns and tiles and proof of that. Linoleum flooring's debut opened up design possibilities, with geometric and checkerboard patterns taking the stage. Kitchens became places for both work and recreation with the introduction of breakfast nooks.
EDITOR'S CHOICE
Brubeck Handle + Karat Drawer Handle
1940s: Minimal With a Feminine Touch
PHOTO: 1940's Inspired Kitchen | Joan Vanderschut
The 1940s witnessed a shift towards minimalism while still incorporating decorative touches. Soft gingham-patterned curtains, pottery, and colorful wallpaper added a very particular charm to the kitchen atmosphere. Tiled walls and floors remained a popular heritage as gracious motifs, like flowers and fruit, were spotted all over kitchen decor. The mood was inviting and sweet, traditional but cozy.
EDITOR'S CHOICE
Tiffany Quartz Drawer Handle + Waltz Drawer Handle
1950s–1960s: Atomic Kitchens
PHOTO: Armstrong Tiles
With the advent of space travel, the Atomic Age influenced anything and everything, kitchen design included! Mid-century styles emerged, featuring blonde wood cabinetry, Formica countertops, and futuristic motifs. Pastel and bright colors stepped into the scene, providing a lighter flare into ambiances dominated by appliances with very generous dimensions – the bigger the merrier!
EDITOR'S CHOICE
Skyline Drawer Handle + Hendrix Door Pull
1970s: Kitchen Kitsch
PHOTO: flashback.com
After the previous era of technological extravaganza, the 1970s brought back the notion of the kitchen as a space for relaxation and decompression. Earthy colors dominated the palette, complemented by wood-paneled walls and matching cupboards. Pops of color were sponsored by mint green refrigerators, copper ovens, and kitsch ceramic objects. Suspended kitchen items like macramé plant hangers and swag lamps contributed to the era's unique charm, turning kitchens into extensions of their owners' personalities.
EDITOR'S CHOICE
Acorn Cabinet Handle + Toile Drawer Handle
---
SEE ALSO: 10 Summer Trends For Refreshing Atmospheres
---
1980s–1990s: Rustic High-Tech
PHOTO: Getty Images
Postmodernism influenced kitchen design in the 1980s and 1990s, particularly in urban areas. Chrome, brushed steel, and stainless steel took center stage, exuding a sleek and high-tech aesthetic. Loft-style kitchens showcased a mix of gleaming metals and rough exposed brick, striking a balance between sophistication and rustic appeal.
EDITOR'S CHOICE
Kesya Cabinet Handle + Nouveau Cabinet Handle
2000s–2010s: The Arrival of The Kitchen Island
PHOTO: Saratoga Living
Out of need and overgrowing take of the kitchen as a place for family gatherings, expanding its area has become a trend as much as a necessity. Islands have since arrived to stay and become the kitchen's focal points. Stainless steel appliances dominated, contrasting with natural wood tones and Mediterranean-inspired elements. Let's call it the Tuscan inspiration! As years went by, it gave way to sleeker and modern farmhouse styles, featuring white marble, matte black hardware, and minimalist designs.
EDITOR'S CHOICE
Caviar Drawer Handle + Baruka Drawer Handle
Today: The Kitchen As The Home's Center Stage
In the present day, kitchens have embraced a range of trends. The love for cooking has expanded thanks to culinary reality tv, and islands present themselves as the perfect solutions for anyone wanting to live the kitchen life to its full potential. White marble and industrial pendant lighting dominate modern designs. When it comes to color, experimentation is back! Vibrant hues and colorful appliances with retro designs have made a huge comeback. From yellows and greens to light-colored plywood, homeowners are seeking unique and personalized touches. Nooks, banquettes, and cozy corners have reemerged, fostering moments of human interaction within the kitchen space.
SHOP THE LOOK
Atlas Cabinet Handle + Atlas Drawer Handle
---

SEE ALSO: The All-Time 15 Top PullCast Best-Seller
---
Kitchen design trends have evolved over the years, reflecting societal shifts and design preferences. From the sleek elegance of Art Deco to the playful kitsch of the 1970s, each era has left its mark on the heart of the home's chronology. Today, kitchens celebrate both functionality and aesthetics, with an emphasis on personalization and creating spaces that invite joy and human connection.
PullCast is at your disposal, with premium quality hardware designs, that capture that precise essence, for you to create a kitchen atmosphere that, like its long-lasting fixtures, will stand the test of time.
---
---
Thank you for joining PullCast Blog on a journey through time into kitchen design trends. We hope you enjoyed your stay aboard PullCast's time-travel machine. Feel free to follow us on Facebook, Pinterest, and  Instagram for more updates regarding home and commercial decor.