A UNIQUE AND PERSONALIZED GIFT TO CELEBRATE MOTHER'S DAY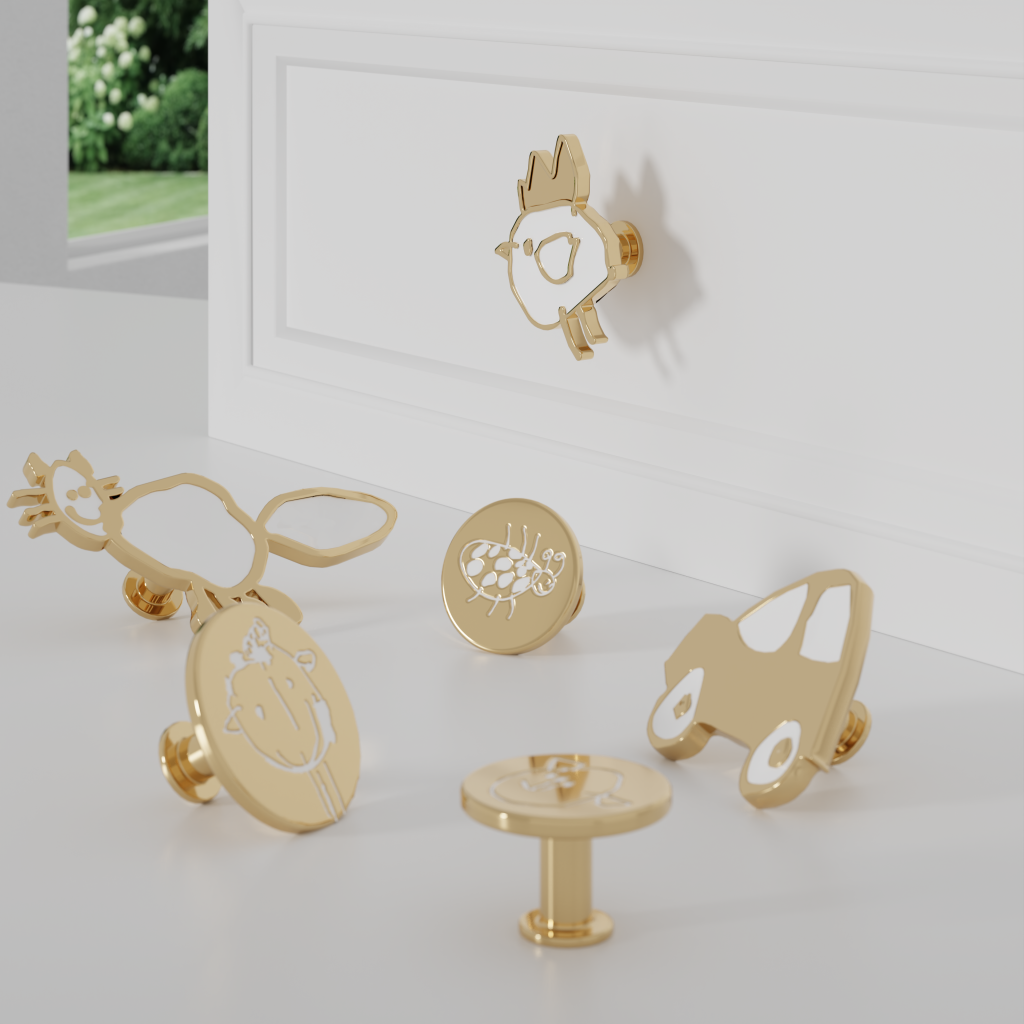 A UNIQUE AND PERSONALIZED GIFT TO CELEBRATE MOTHER'S DAY – Do you know PullCast offers a unique and personalized service where children's artwork can be transformed into a one-of-a-kind hardware design that will be cherished for years to come? Wouldn't that be an amazing gift to celebrate our mothers in splendor? Imagine the look on your mother's face when she opens her gift and discovers this token of your love in the form of a stunning piece of hardware. PullCastBlog will tell you all about it!
---
A Unique And Personalized Gift
To Celebrate Mother's Day
PullCast's Kids Bespoke allows you to create handmade hardware from children's drawings. This means you can give your mom something truly special and unique this Mother's Day. Can you imagine how touched she will be when she sees a drawer pull or a cabinet handle made from one of her infant's precious doodles?
Children's drawings transformed into beautiful and functional hardware is the perfect way to showcase your kids' creativity and give them a special role in decorating your family's home. Not only is this a unique and sentimental gift, but it is also very practical. Hardware is a necessity in any home and upcycling your existing pieces with customized ones will add a touch of personality and charm to your space. The new magical object will then become the centerpiece of the room, reminding everyone of the special bond between mother and child.
EDITOR'S CHOICE
Cloud Drawer Handle + Rocket Drawer Handle + Butterfly Drawer Handle
How Does It Work?
PullCast has the magic to make this all come true. Our skilled artisans use the latest technology and manufacturing techniques to turn kids' artwork into high-quality and durable hardware pieces. We work closely with you every step of the way to ensure that the final product meets your expectations.
So why not surprise your mother with a unique and personalized gift this Mother's Day? Commission a bespoke hardware piece today and make your child's artwork a permanent endearing decorative object to showcase in your home. Celebrate the joys of motherhood and cherish the memories for years to come with such a heartfelt creation. Contact PullCast today and bring your child's artwork to life with the Kids Bespoke Concept.
EDITOR'S CHOICE
Penguin Drawer Handle + Turtle Drawer Handle + Bear Drawer Handle
The imagination of PullCast's creatives is endless. Take a look at PullCast's Kids Collection! Inhabited by friendly creatures, like honey lover bears and galaxy-exploring rockets, it promises to turn kids' special's world into an adventurous and enchanted kingdom, for them to play and dream. Browse through PullCast's fascinating catalog for more conceptual-designed jewelry hardware.
---
Do you like this idea for a unique and personalized gift to celebrate Mother's Day? Presented at ISaloni, last April, Kids Bespoke is already a hit! Stay tuned to PullCast Blog for more updated content regarding luxury hardware design. Don't forget to follow us on Facebook, Pinterest, and Instagram.