HOW TO TRANSFORM YOUR KITCHEN WITH TRENDY DECOR IDEAS AND PREMIUM HARDWARE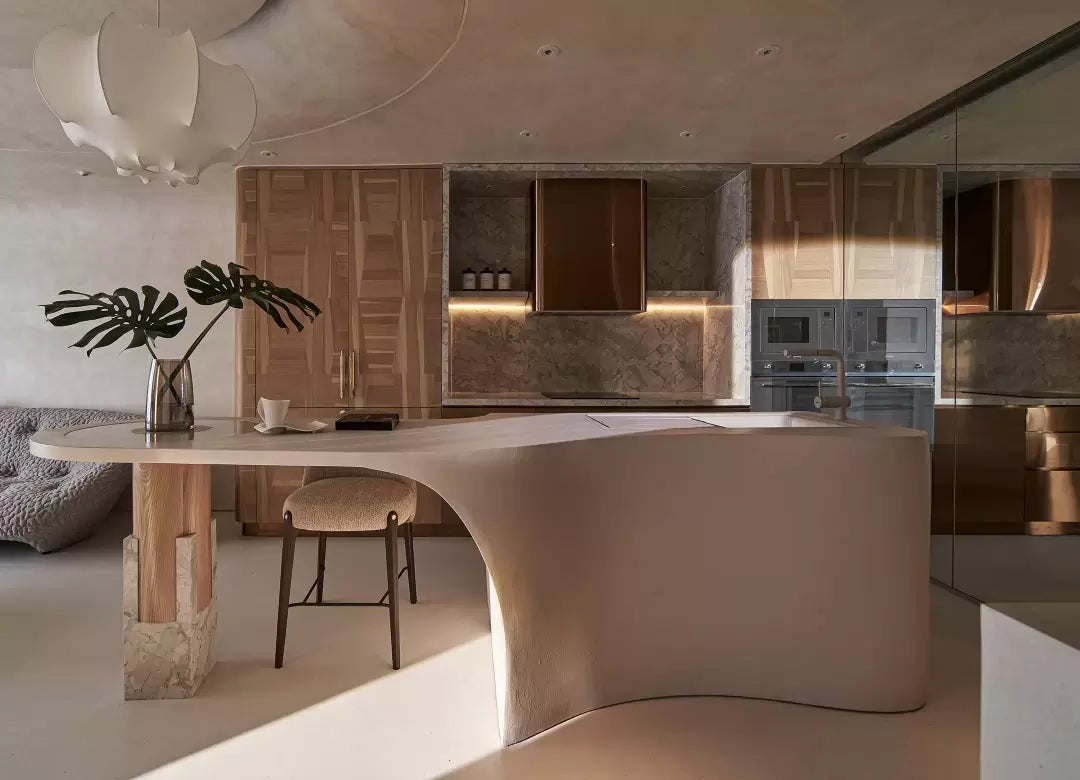 HOW TO TRANSFORM YOUR KITCHEN WITH TRENDY DECOR IDEAS AND PREMIUM HARDWARE – The kitchen is the heart of any home and it deserves to be a space that reflects your personal style and brings joy to your daily routine. If you're looking for kitchen décor ideas to revamp your cooking sanctuary you're in luck! PullCast Blog is delighted to share its wisdom and explore some of the hottest trends in kitchen design.
---
SEE ALSO: Keep On Trending – Exciting Ways to Upgrade Your Kitchen
---
How to Transform Your Kitchen
With Trendy Decor Ideas and Premium Hardware
From monochromatic kitchen havens to avant-garde designs that could have been featured in a Kubrick movie, PullCast is proud to present you with great inspiration on how to transform your kitchen.
Monochromatic Kitchen Havens
PHOTO: Dosystudio

Simplicity and elegance take center stage in monochromatic kitchen havens. Embrace the timeless appeal of a single-toned palette such as shades of white, gray, or beige, creating a cohesive and harmonious space. Or go a little step further, and explore the less obvious neutrality of peachy pink and other pastel colors for an effortless and soothing ambiance. Use different textures and finishes to add depth and visual interest. Think wood cabinetry stone countertops and minimalist hardware. Go all the way to ensure an atmosphere of tranquility and sophistication.
EDITOR'S CHOICE
Skyline Drawer Handle + Skyline Cabinet Handle
Marble Supreme Elegance

Marble has long been synonymous with luxury and sophistication and it continues to dominate the realm of kitchen design. Marble countertops and floors lend an air of supreme elegance to any kitchen. Ever considered pairing this natural stone with complementary finishes such as brass or gold accents? This will provide you with a truly opulent feel. The veining patterns in marble also add visual appeal making each kitchen unique and a true showstopper. And with so much going on, minimalistic architectural hardware designs are the key to not overstating.
EDITOR'S CHOICE
Nouveau Cabinet Handle + Waltz Drawer Handle
Dark-Chic and Fabulous

For those who prefer a moodier aesthetic, the dark-chic trend is perfect. Dark-toned cabinetry such as deep charcoal or navy blue adds a touch of drama and sophistication. Combine it with contrasting elements like light countertops open shelving or metallic accents to create an exquisite balance. This trend is a bold statement showcasing your personality and flair for modern design.
EDITOR'S CHOICE
Quantum Marble Cabinet Handle + Quantum Cabinet Handle
---
SEE ALSO: The All-Time 15 Top PullCast Best-Seller
---
Sometimes More is Defitly More

If you're not afraid to be adventurous and embrace eclecticism the "more is more" trend is for you. Mix and match different styles, materials, and colors to create a kitchen space that exudes vibrancy and complexity layered personality. Combine rustic wooden elements with bold-colored tiles or juxtapose vintage-inspired furniture with textured fixtures and contemporary appliances. Celebrate your individuality without making a commitment to a single style and allow your creativity to flow.
EDITOR'S CHOICE
Belize Cabinet Handle + Baruka Drawer Handle
Clean, Bright and Charming
Are there any minimalists in the other corner of the kitchen? Worry not! Minimalistic designs are never out of style and are always a great option for those seeking a clutter-free space. Clean lines, neutral colors, and cabinetry with great storage proportions can also give your kitchen a bright and charming ambiance. Opt for sleek hardware designs with a good grip, integrated appliances, and bright colors to maintain an uncluttered aesthetic. The emphasis here is on functionality and creating an environment that fosters creativity and relaxation. But who said it had to be boring?
EDITOR'S CHOICE
Karat Drawer Handle + Monocles Drawer Handle
Countertops Islands Paradises

More than prep spaces for your meals, countertop islands are rather gathering places for friends and family to socialize. Embrace larger kitchen islands or extended countertops to accommodate seating transforming the area into an inviting space for conversations. Choose materials like marble or granite which offer durability and beauty. Incorporate unique features, like metallic accents to match your cabinetry hardware, a provide a seamless flow and a touch of elegance.
EDITOR'S CHOICE
Atlas Cabinet Handle + Atlas Drawer Handle
Avant-Kitchens

If you have a soft spot for futuristic aesthetics and love the sleek modern design then avant-garde kitchens are your dream come true. Think of an ode to Kubrick movies where mobile-style lamps, 70's chandeliers, and ergonomic futuristic furniture prevail. Embrace bold geometric shapes, high-gloss finishes, and cutting-edge appliances that seamlessly integrate into the overall design. This trend encapsulates the fusion of technology, art, and functionality for an ultramodern kitchen experience.
EDITOR'S CHOICE
Tiffany Drawer Handle + Karat Drawer Handle
---
---
Whether you prefer the simplicity of monochromatic kitchens, the opulence of marble, the moody charm of dark tones, or the creative freedom of mixing styles there's a trendy kitchen decor idea that will awaken your senses. From clean and minimalistic charm to avant-garde designs wrapped in futuristic aesthetics these trends allow you to personalize your kitchen and to create designs you can truly be proud of.
Explore PullCast's catalog and find many options suitable for kitchen transformations and other interior design projects. Premium quality fixtures handcrafted with extra care and in style.
---
---
What do you think of these tips on how to transform your kitchen? Do you feel inspired? For more interior design ideas keep on browsing through PullCast Blog. Feel free to follow us on Facebook, Pinterest, and  Instagram for more updates regarding home and commercial decor.