OLD MONEY DECOR: FOLLOW THE TREND TAKING OVER TIKTOK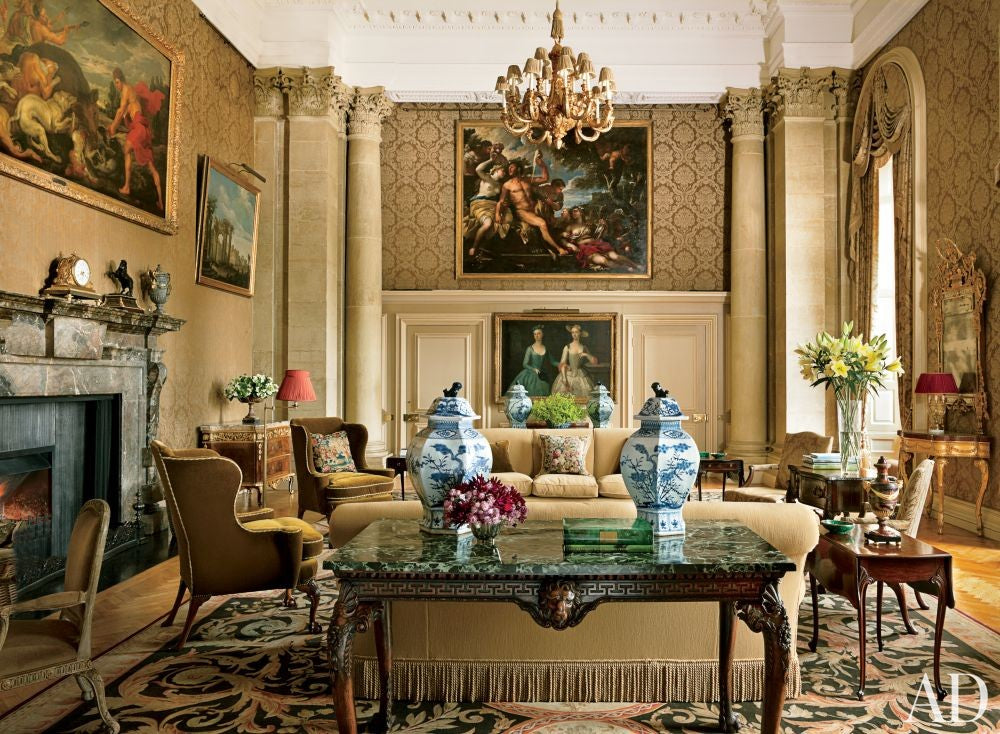 OLD MONEY DECOR: FOLLOW THE TREND TAKING OVER TIKTOK – Bringing along a nostalgic essence of sophistication and luxury, there is a trend that is taking over social media and even translating to the world of interior design. It is a departure from the modern and flashy, embracing the enduring allure of the past: the old money aesthetic. Reminiscent of Ralph Lauren Home intertwined with a touch of Christie's and heirlooms from the elite's grandparent's attics, it is making a significant impact in the design world and beyond, transcending time with its classic elegance. The PullCast Blog will tell you all about it.
---
OLD MONEY DECOR
FOLLOW THE TREND TAKING OVER TIKTOK
PHOTO: Oberto Gili | Spencer Churchill Designs | Architectural Digest 
The old money decor trend speaks the language of quiet luxury, emphasizing craftsmanship, quality, and originality. It's a reflection of timeless charm, embodying the very essence of PullCast's defining characteristics. Notably, this trend spotlights the minute details—what meets the eye, as well as what lies beneath, above, and behind each element.
Embracing this aesthetic means filling spaces with layers of curated curiosities and pieces collected as mementos from a life well lived and traveled. Unlike the prevalent white spaces and minimalist designs of recent years, the old money aesthetic celebrates every nook and cranny of traditional layouts, reviving overlooked corners with charming plates, vintage art, and treasured finds, transforming once-neglected spaces into cozy, old money cocoons.
EDITOR'S CHOICE
Flow Door Pull + Limb Door Pull
---
SEE ALSO: In-Stock Ready To Ship Treats Now Available In The USA
---
The Return Of The Classic Atmosphere
PHOTO: Stonehedge Farm by Catalano Architects
The resurgence of this trend signals a shift from the open-concept living that has dominated the design landscape. It harks back to the appreciation of meaningful décor choices and the creation of intimate, inviting spaces within the home. For those fatigued by the constant cycle of changing trends, this return to a more classic style is a breath of fresh air.
Color schemes in old money décor often consist of historic blues, deep greens, rich burgundies, and blush tones, all layered and balanced with warm neutrals or classic black and white. Patterns like florals, botanicals, stripes, and plaids reign supreme, occasionally paired with subtle animal prints for a touch of modernity. The secret is to balance patterns with solid elements for a cohesive, well-curated look.
The cornerstone of this aesthetic is the integration of antiques and collections, from antique books to carefully selected objects. Texture plays a pivotal role, introducing elements of brass, crystal, mirrors, marble, and rich, dark woods, infusing spaces with an air of sophistication and history without the need for a significant financial investment.
EDITOR'S CHOICE
Limb Door Lever – Tiffany Marble Drawer Handle
---
SEE ALSO: Bedroom Inspiration: A Journey Through Style and Serenity
---
The old money aesthetic is a return to refined, luxurious living. It's a homage to timeless elegance, embracing the notion that true beauty lies in the authenticity of craftsmanship, history, and individuality, offering a chance to transform our living spaces into charming and alluring reflections of the past.
---
---
From fashion to interior design, the old money aesthetic is a way to achieve an effortless vibe of opulence and elegance. Pullcast hardware designs, with a refined and intricate appeal, hold the key to a contemporary vision of old money decor. Browse through the PullCast Blog for more inspirational luxury interior design-related content. Subscribe to our newsletter and follow us on Facebook, Pinterest, and Instagram.